• Update On Carmella's Injury
At a WWE Live Event at the North Charleston Coliseum in North Charleston, South Carolina in August, Carmella suffered an injury during a Triple Threat Match for the RAW Women's Championship.
Carmella hit her head on the ring post and the referee threw up the "X" sign, which represents a real injury.
After that, Carmella didn't return to the match and Bianca Belair pinned Asuka to win the match.
Carmella's husband, RAW Commentator Corey Graves, tweeted the following after this (but later deleted it):
"LOVE learning that my f**king wife got injured at a live event via Twitter. @WWE"
Below is a screenshot: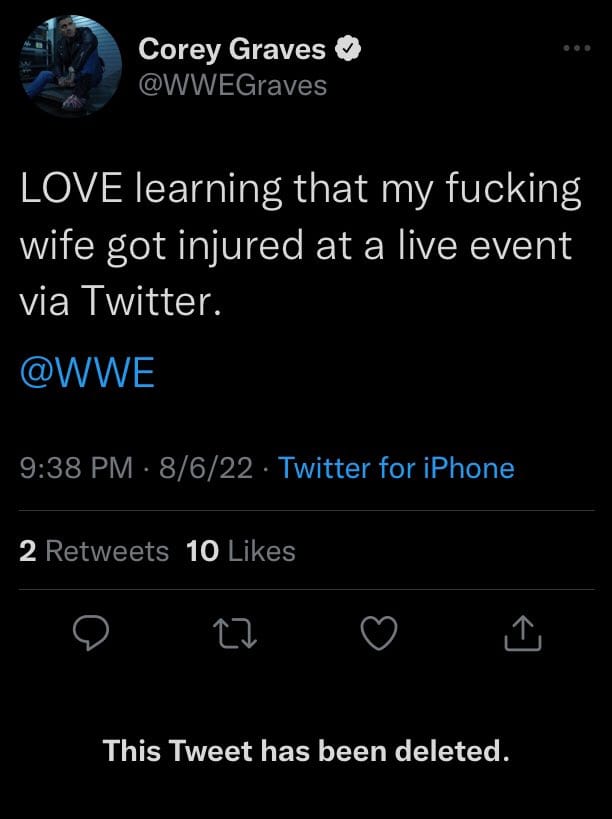 According to PWInsider, Carmella suffered a concussion, but she's doing fine now and is expected to make her return this month.
When a fan asked Carmella about her return, she tweeted:
"I'm not sure yet.. still recovering. Hopefully soon! 🤞🏻
I miss y'all ❤️❤️❤️"
Also Read: SmackDown Star Thinks Carmella Has A Great Butt
WATCH: Revealing Footage Of Carmella In A Pool:
• On This Day In Pro Wrestling History (September 1, 1986) – NWA Battle of the Belts 3
On this day in Pro Wrestling history on September 1, 1986, CWF Championship Wrestling From Florida held 'NWA Battle of the Belts 3' at the Ocean Center in Daytona Beach, Florida.
This was the last of 3 'NWA Battle of the Belts' events, promoted by the CWF territory.
The results from that night:
Jimmy Backlund pinned Bob Cook
Tyree Pride pinned The Cuban Assassin
US Tag Champs The Fabulous Ones beat The Sheepherders
US Junior Heavyweight Title: The White Ninja pinned Tim Horner (c)
(The belt was later returned to Horner due to outside interference)
AWA World Championship: Nick Bockwinkel (c) beat Kendo Nagasaki by DQ
The Road Warriors wrestled Ed Gantner & Kareem Muhammad to a double DQ
Kendall Windham defeated Bahamas Champ Chris Champion by DQ.
NWA World Championship: Ric Flair (c) wrestled Lex Luger to a draw
Florida Title: Barry Windham pinned Ron Bass (c)