• ON THIS DAY IN WWF HISTORY (October 28, 1999) – WWF SmackDown!
On this day in 1999, the World Wrestling Federation aired an episode of their weekly TV show 'WWF SmackDown!'.
It was pre-taped at the Civic Center in Springfield, Massachusetts and featured matches & storyline segments on the road to the 'WWF Survivor Series 1999' PPV.
Here's the card:
1. Too Cool vs. Christian & Edge
2. Stevie Richards vs. Chris Jericho
3. WWF European Title: British Bulldog vs. D-Lo Brown
4. Dudley Boyz vs. Kane & X-Pac
5. Hardy Boyz vs. Mark Henry & Viscera
6. WWF Hardcore Title: Big Bossman vs. Al Snow
7. Mankind vs. Val Venis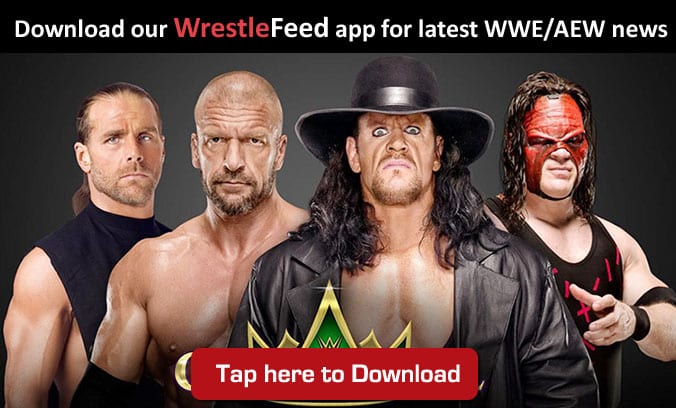 • Vince McMahon Expected To Release Jordan Myles, Fans Turn On Myles After Comment About Jay Lethal
As we all know by now, WWE NXT wrestler Jordan Myles didn't like his NXT T-Shirt design and thought it was racist.
This led to him calling out Vince McMahon & Triple H. He even went on to say that WWE doesn't care about black people (tap here for more details).
Myles made the following tweets about why he agreed to the T-Shirt design that he now thinks is racist:
When I originally saw the design I was uncomfortable. Rather than addressing the issue I decided to counter offer with another.

Baker Landon lied to my face! He said HHH wanted this design so my hands were tied. I spoke with @TripleH in person and his impression was I approved https://t.co/JndOSasTGK

— Jordan Myles (@GoGoMyles) October 28, 2019

Myles also went on to take a shot at ROH & Jay Lethal: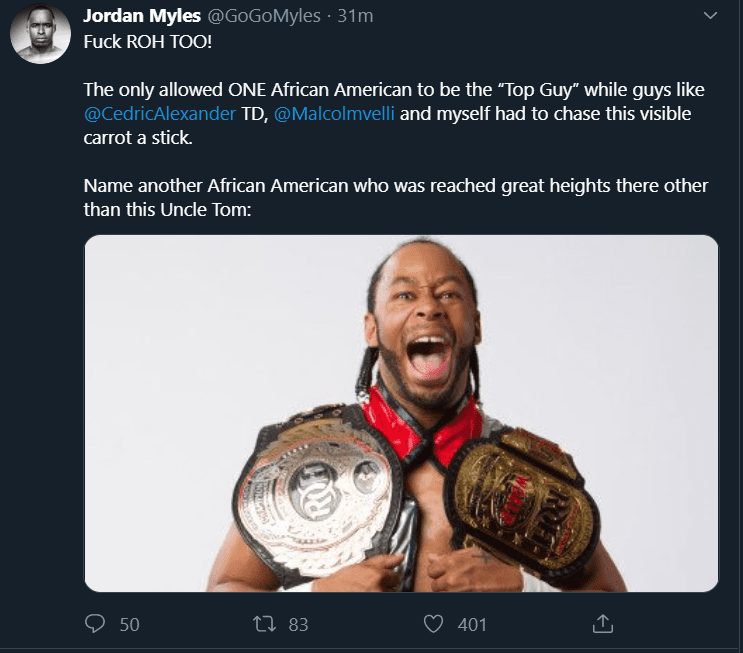 His comment about Lethal resulted in a lot of fans turning against him. You can check it out below: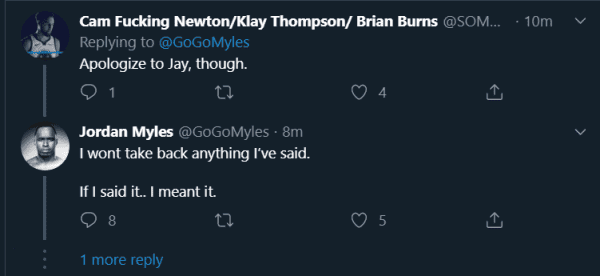 I was with you till you skewered Jay Lethal..way to bring up "the culture", what a joke.

— Jesse Penokie (@jessepenokie) October 28, 2019
I think you should apologize to Jay Lethal

— #WOKEN JCSArmy! John Wills Jr. (@wills2212) October 28, 2019
Jordan Myles is the next Jussie Smollett playing the race "victim" card for attention. Kinda pathetic. @davemeltzerWON @solomonster @bryanalvarez @joenumbas @GoGoMyles @The305MVP #WWE #AEW

— Bigberthafaye (@bigberthafaye) October 28, 2019
Okay Jussie Smollett

— Big Red (@redmanspeak) October 28, 2019
Jordan clown myles

— Tyler ? (@TylerTheGreat08) October 28, 2019
Jussie Myles

— Mozzie Shtick (@MozzarellaStix) October 28, 2019
New character idea: Jordan Smollett

— Ryan Moses (@RMoses10) October 28, 2019
Your ego has risen to the clouds.
Shut up that you're getting worse on your own, this may end badly for you.
Go to @AEWrestling better. 😉 pic.twitter.com/7T4lhNNd2e

— Agus. (@AgustinArcas98) October 28, 2019
You've lost your mind Brodie

— Joseph Katz (@jmkrox) October 28, 2019
Tell me

Tell the people

If u were NXT champ and this awful shirt came out

Would u still sound this alarm?

— Its Ya Girl Stephanie… (@WICPStephBee) October 28, 2019
Not after that comment about lethal.

— Christopher Clinton (@christo26272159) October 28, 2019
No you arent.

— mike ? (@StraightGrizzly) October 28, 2019
I hope Vince fires you

— TheWaySheGoes ?? (@TheWaySheGoes05) October 28, 2019
When will the Self Destruction of ACH be available on Blu ray?

— anthony russo (@Serpentballer12) October 28, 2019
Having Jussie Smollett moment

— Robbie (@Schmoneyyy) October 28, 2019
You are going full blown jussie……

Just stop #fakehate #hatehoax pic.twitter.com/OYjBCnaGiU

— Pjmprometheus (@The_Ganjadude) October 28, 2019
If @GoGoMyles didn't approve this shirt design, I'm with him. If he did, this is Jussie Smollett style race baiting and it sets us minorities back once again.

— Jey-Row (@JeyFNRow) October 28, 2019
Holy shit get over yourself dude

— Big Sexy Mark (@Smark58356943) October 28, 2019
Sounds like you wanna be the NXT Jussie Smollett

— John Dowell 1897 (@JohnDow26349982) October 28, 2019
To bad the brain he sparked is that of a clout chasing clown, who is trying to make himself the victim in a circumstance that didnt have one. ??

— Drew (@DrewMoeDee) October 28, 2019
Jordan miles is the WWE Jussie Smollett

— Black Crowne ? (@jedimindtriiks) October 28, 2019
@TheLethalJay you gonna let this jussie smollett fake hate hoaxer call you that? @GoGoMyles pic.twitter.com/30jyIkjCTr

— Pjmprometheus (@The_Ganjadude) October 28, 2019
Shut up

— John (@John58875940) October 28, 2019
your ego is to big buddy… This getting awful

— thestarwars66 (@thestarwars66) October 28, 2019
According to Brad Shepard, Vince McMahon and Triple H had a meeting with other officials today and word going on is that Vince is considering releasing Myles from the company.
WATCH: WWE Interviewer Charly Caruso Featured In A Non-PG Video: