• ON THIS DAY IN WWF HISTORY (October 28, 1996) – WWF Monday Night RAW
On this day in 1996, the World Wrestling Federation aired another episode of their weekly TV show 'WWF Monday Night RAW'.
It was broadcasted from the War Memorial Coliseum in Fort Wayne, Indiana and featured pre-taped matches, interviews & storyline segments on the road to the 'WWF Survivor Series 1996' PPV.
Here's the card:
1. Jesse James vs. Salvatore Sincere
2. Crush vs. Aldo Montoya
3. Billy Gunn vs. Freddie Joe Floyd
4. Shawn Michaels vs. Davey Boy Smith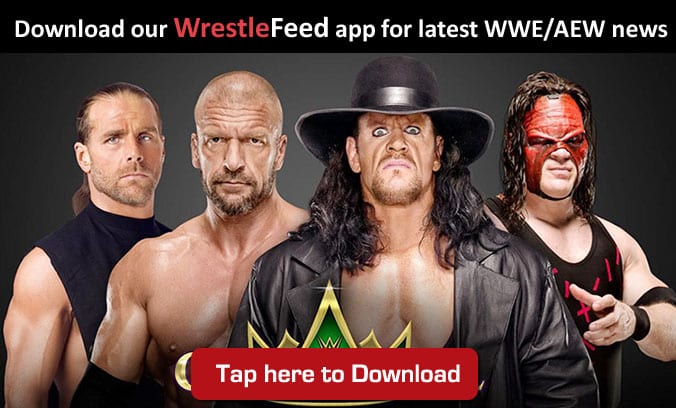 • Jordan Myles Says WWE Doesn't Care About Black People & An Employee Lied To Him
WWE NXT wrestler Jordan Myles got very upset over the design of his WWE T-Shirt. You can check out the original design below: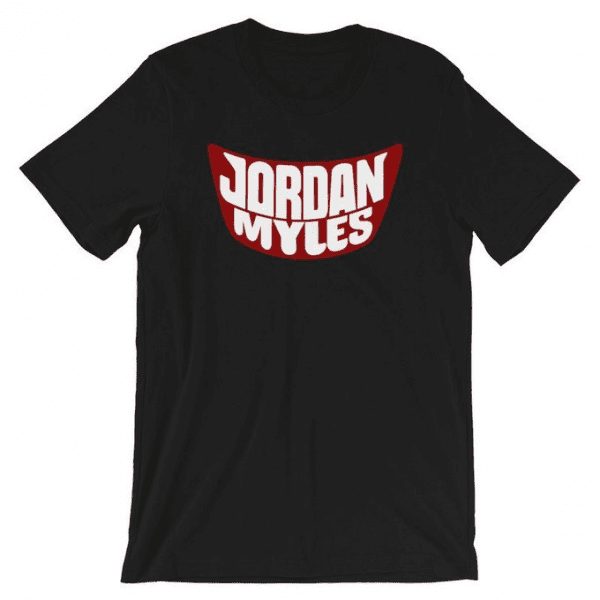 WWE's shop department quickly changed the design after this and you can check out the new design below: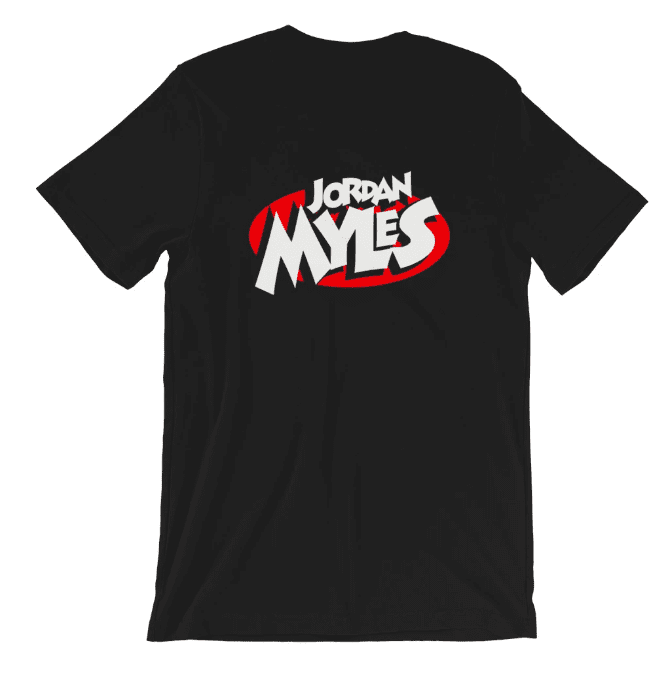 Myles was offended and even called out Vince McMahon and Triple H over this. You can check out his tweets below:
I will keep posting this till my voice is heard. I'm not sorry for anything I say or do.

Representation is important.

If this is @VinceMcMahon & @TripleH "vision" of me then this is a slap in the face to EVERY African American performer, fan, and supporter. pic.twitter.com/S6Gtg9e4lP

— Jordan Myles (@GoGoMyles) October 27, 2019
Does it matter if the shirt was replace? The FACT that they even made the first one overshadows anything till WE get what we deserve. https://t.co/mLjKeUDNNt

— Jordan Myles (@GoGoMyles) October 27, 2019
They'll regret making this…#ForTheCulture ✊? pic.twitter.com/4beOuulN5b

— Jordan Myles (@GoGoMyles) October 27, 2019
THEY will learn to regret after this. I promise you.. https://t.co/jvXcTM15Fq

— Jordan Myles (@GoGoMyles) October 27, 2019
I've used this shirt as fuel. I knew the shirt existed and my soul hasn't been able to rest properly since I've laid eyes on it. My voice will be heard… my true opinion will be heard.. and MY PEOPLE will have their moment. https://t.co/uMErUAGr43

— Jordan Myles (@GoGoMyles) October 27, 2019
Protest with by turning your photos black and white on Twitter.

And use the hashtag:#ForTheCulture @CedricAlexander @DLockPro pic.twitter.com/H01yLICzg1

— Jordan Myles (@GoGoMyles) October 27, 2019
Former WWE Cruiserweight Champion Cedric Alexander also went on to support him:
— Cedric Alexander (@CedricAlexander) October 27, 2019
Former WWE wrestler Shad Gaspard then tweeted the following:
If you don't understand the outrage educate yourself, bc your ignorance is part of the problem.@GoGoMyles we stand with you bro pic.twitter.com/hga8cPRI5G

— Shad Gaspard (@Shadbeast) October 27, 2019
WWE issued the following statement regarding this situation:
"Albert Hardie Jr. (aka Jordan Myles) approved this t-shirt for sale. As always, we work collaboratively with all of our performers to develop logos and merchandise designs and get their input and approval before proceeding.
This was the same process with Albert, and we responded swiftly once he later requested that the logo/t-shirt be redesigned. No t-shirts were sold."
This led to Myles tweeting the following:
When I originally saw the design I was uncomfortable. Rather than addressing the issue I decided to counter offer with another.

Baker Landon lied to my face! He said HHH wanted this design so my hands were tied. I spoke with @TripleH in person and his impression was I approved https://t.co/JndOSasTGK

— Jordan Myles (@GoGoMyles) October 28, 2019
Don't believe me? Email him and ask him yourself.

GFYS Baker! pic.twitter.com/iNfV7aqq6M

— Jordan Myles (@GoGoMyles) October 28, 2019
Myles then posted a video (and later deleted it) and said that WWE doesn't care about black people and then showed the middle finger.
You can watch it below:
Myles also took a shot at ROH with the following tweet (which he later deleted):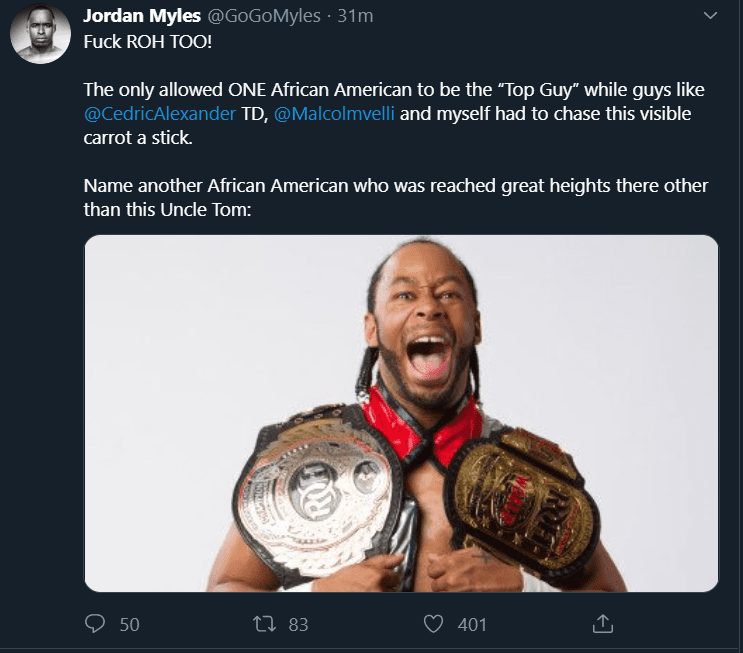 WATCH: Velvet Sky Had The Hottest Entrance In TNA History: