As we all saw last night, both Brock Lesnar & The Undertaker were busted open in their main event bout at Hell in a Cell 2015.
Accrording to reports from Wrestling Observer, Vince McMahon & Kevin Dunn were freaking out over this incident as WWE is "PG" and they have a "No Blood" policy on their programming.
It was Dunn's idea to get the docter in the Cell to treat the wounds of the two superstars, but Brock shoved the doctor away when he was going to fix Taker's cut. Brock Lesnar was busted open when he hit the ring post. There was some speculation that Undertaker performed a blade job on himself, but we can now confirm that he didn't blade, and was busted open the hard way. As we noted earlier, Lesnar received 9 staples in his head. Below is a pic: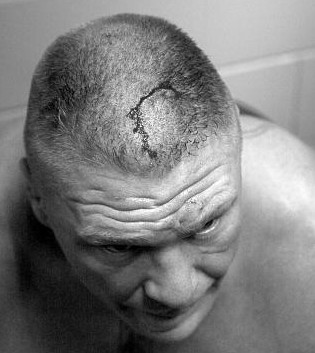 Also Read: Big Survivor Series 2015 Match Featuring Undertaker? – Click Here.