• OLD SCHOOL VIDEO HISTORY (August 14, 1983) – HULK HOGAN ON NWA TV
What? Hulk Hogan wrestling in an NWA Territory?
Well, not all too many people know about his brief stint on 'NWA Wrestling at the Chase', a weekly TV Show by NWA Territory 'St. Louis Wrestling Club'.
Between 1945 and 1982, the legendary Sam Muchnick used to be the promoter, but at this point in time Bob Geigel, Pat O'Connor & Harley Race had taken over as co-promoters.
Hogan himself was still wrestling for Verne Gagne's AWA on a regular basis at that time, besides doing tours to Japan (NJPW) every year as well.
On August 14, 1983, NWA Wrestling at the Chase aired a pre-taped match that featured Hulk Hogan wrestling John King.
With Verne now allowing Hogan to appear on NWA TV, the National Wrestling Alliance also booked him for their inaugural Starrcade event, that would happen a few months later on November 24, 1983.
The Hulkster was supposed to team with "Chief" Wahoo McDaniel against Dick Slater & "Cowboy" Bob Orton at the first ever Starrcade, but ended up cancelling the booking as it conflicted with a tour to Japan.
When he returned from NJPW, instead of going back to the AWA as expected by Verne Gagne, Hogan secretly met with Vince McMahon, signed with the World Wrestling Federation and the rest is history.
• Vince McMahon Reportedly Ribbed Bret Hart At SummerSlam 2019
As seen at SummerSlam 2019, two time WWE Hall of Famer Bret Hart appeared in a backstage segment to wish Seth Rollins good luck for his match with Brock Lesnar.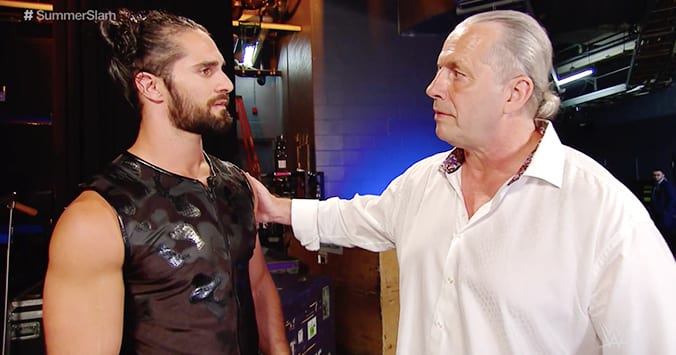 According to The Dirty Sheets, Vince McMahon wasn't happy with Bret appearing at AEW Double Or Nothing PPV, then rejecting an offer to appear at RAW Reunion and not easily agreeing to a deal for SummerSlam weekend.
Because of all these reasons, word backstage in WWE is that Bret's segment with Seth was seen as Vince ribbing Bret, because Bret has criticized Rollins' in-ring work on multiple occasions in the past (one example would be Bret calling Rollins out for breaking John Cena's nose in a match).
Announcement: Please download our official "WrestleFeed" app for the latest WWE News & SummerSlam 2019 updates!
Below are the download links for our Android/iOS app:
Android – http://bit.ly/2IVQ3yU
iOS – https://apple.co/2Oido0R