• Vince McMahon To A WWF Tag Team: "You Lend Credibility To My Company"
During a recent episode of Arn Anderson's podcast, the former Four Horsemen member talked about his 1988-1989 World Wrestling Federation run and how he and his fellow Horsemen member Tully Blanchard were treated by WWF promoter Vince McMahon
Anderson revealed that Vince never tried to change their in-ring names, nor their gimmicks/characters, despite them coming in from a rival promotion, that was Jim Crockett Promotions (NWA).
Here's what "The Enforcer" had to say:
"He didn't mess with us much. I mean, you look at our costume, he didn't say, 'Change your gear.' Brain Busters, to me, was not a 'ha-ha cartoon name'. Bobby 'The Brain' Heenan, he was our manager.
Brain Busters were fine with me. He didn't make an effort to dumb us down or make clowns out of us or any of that stuff. And, you know, he spoke the truth the one time after we had been there 6 months or something.
We might have discussed this in a previous episode, but we came back from working with, it might have been Demolition, or it might have been one of the Rocker matches, I don't know. But he pulled us aside and went, just out of the blue, he went, 'You know guys, you lend credibility to my company'.
It was a huge compliment, and it came out of nowhere, and I, at that moment, went, 'Oh, that's why he hasn't messed with us.'
You know, he didn't let us have the opportunity to do any promos of our own. They were all scripted, and it was one or two lines, and that was it. I would have loved to be able to cut one of those two-minute 'Four Horsemen were coming to get your a$$' promos, and all that Tully had a minute and a half to do his.
It just never happened, but, all in all, I wasn't disappointed, and they never said anything about changing our names or anything. My god, why would they. They had already had worldwide recognition."
WATCH: Vince McMahon Kisses Candice Michelle (Part 1):
You can download our official WrestleFeed mobile app to check out more Wrestling news & Divas content. Tap here to download.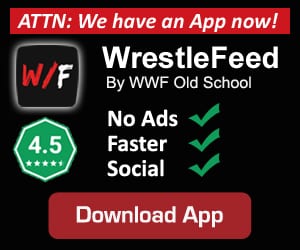 • Old School Wrestling Veteran Would Have Celebrated His Birthday
Today would have been the 60th birthday of Old School Wrestling Veteran Yoshi Kwan aka Chris Champion (Real name: Christopher Ashford-Smith).
Ever since 1984, Chris Champion was wrestling for several territories, including a Tag Team run in Jim Crockett Promotions as one half of 'The New Breed', as well as working in Memphis for a few years, where at one time he even wrestled a few matches as "Kowabunga", wearing a 'Teenage Mutant Ninja Turtles' bodysuit & mask.
Probably his most memorable run came in 1993, when he wrestled for Ted Turner's World Championship Wrestling as Yoshi Kwan, billed as Asian and managed by Old School NWA Legend Harley Race.
He passed away on August 22, 2018 at the age of 57.
HAPPY BIRTHDAY & † REST IN PEACE
February 17, 1961 – August 22, 2018