• "We need to make you look really strong" – Shawn Michaels Agreed To Lose To A Top Star At WrestleMania
During The Kurt Angle Show podcast, WWE Hall of Famer Kurt Angle revealed that the finish of his match with Shawn Michaels at WrestleMania 21 wasn't decided by Vince McMahon.
Angle revealed that Vince left it up to him and Shawn to decide who's going to win, and HBK wanted to lose to Angle because there were plans for Angle to feud with Batista (which didn't end up happening).
Here's what Angle said:
"Well, Vince left it up to us. Yeah, I was surprised. I didn't know that he did. What happened was when I met with Shawn 4 days before WrestleMania, we went to the place where they structure the matches. You know, the ring at the hotel. They had like a party room where they had the ring set up.
And Shawn came to me and said, 'Listen, we don't have a finish for WrestleMania, but I think you should go over by tap out, and this is why. I think you are going to do a program with Batista and we need to make you look really strong.'
So I was like, 'Wow', you know, Shawn Michaels says basically he is going to job for me. You know, tap out. I was pleasantly surprised. Didn't know if he was serious, but you know, it was. It showed me that he respected me and that, you know, we would have an incredible match, and it wouldn't matter whether he won or lost.
So, I do understand the program with Batista never happened, but I'm sure it was supposed to. But Shawn just decided to let me win, and without the guarantee that we were going to get to wrestle again because there weren't any plans for us to wrestle after that."
Angle also noted that his match HBK at WrestleMania 21 was his biggest payday.
Also Read: Kurt Angle Names The Match That Got Him Into Pain Killers
WATCH: Sunny Shows Off Her Bare Buns:
You can download our official WrestleFeed mobile app to check out more Wrestling news & Divas content. Tap here to download.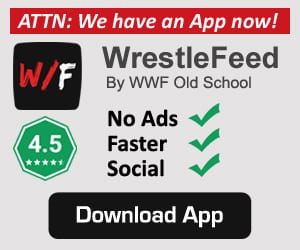 • Old School ECW Diva Celebrates Her Birthday
Old School ECW Diva "The Queen of Extreme" Francine (Real name: Francine Fournier) celebrates her 49th birthday today.
Francine is famous for her career as a valet in Paul Heyman's Extreme Championship Wrestling from 1995 till the promotion closed its doors in early 2001.
Among the wrestlers she managed were "The Franchise" Shane Douglas, "The Innovator of Violence" Tommy Dreamer, Justin Credible and The Pitbulls.
The last time we saw her was during brief stints for Total Nonstop Action in 2002 and World Wrestling Entertainment's version of ECW (on ScyFy) in 2006.
HAPPY BIRTHDAY FRANCINE!