• Kurt Angle Names The Match That Got Him Into Pain Killers
On the first episode of his new weekly podcast with Conrad Thompson, Old School WWF Attitude Era Legend "The Olympic Hero" Kurt Angle talked about the wrestling match that led to him starting to take pain killers, which eventually led to his severe pain killer addiction.
It all started in 2003 when he broke his neck … again, yet still competed in the main event of WWE WrestleMania XIX with a "broken freakin' neck", just like he did at the 1996 Olympics.
Here's what the 2017 WWE Hall of Famer had to say:
"The first time Brock broke my neck in 2003, that's when I was introduced to painkillers, the second I took them, I loved them. It took the pain away, it gave me energy, it got me up, it made me feel really energetic.
I started taking them, when one didn't work I started taking 2, 2 went to 4, 4 went to 8, 8 went to 16, I got completely out of control.
I was taking 65 extra strength Vicodin a day before I started trying to fix the problem. I got myself dug into a hole and I had to get myself out.
I didn't really tell anybody, I hid it really well.
Vince didn't know it was occurring, a couple of the boys saw me sneaking pills so they knew I was taking them, but they didn't know how many.
Nobody knew I had a serious problem like that.
I was just trying to find a way out, once I injured my neck, I got the GM job and I was being wheeled around a wheelchair and I got really self absorbed in the painkillers at that point.
The people I was hanging around with were a bad influence. It wasn't the right thing for me and I had to get myself straight.
It's crazy how God works in crazy ways. When I got home, another doctor called and gave me an option. It was a tough decision because Dr. Youngblood was so reputable.
He did help Rhyno and Edge and Austin, but to have to retire in the prime of my career, I just wasn't ready for that. I made the choice to have the minimal surgery and continue to wrestle.
I'm not going to lie, I'm suffering now for it. I feel it everyday. Eventually someday I'm going to have to have a big surgery."
Also Read: Kurt Angle On Which Match Was His Biggest Payday
WATCH: WWE Doctor Touches Stephanie McMahon's Knockers:
You can download our official WrestleFeed mobile app to check out more Wrestling news & Divas content. Tap here to download.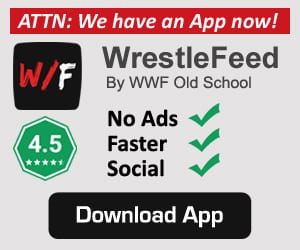 • Old School WWF Veteran Celebrates His Birthday
Old School WWF Attitude Era Veteran Gangrel (Real name: David Heath) celebrates his 52nd birthday today.
After doing jobs for all the 2 big promotions of the 90s (WWF/WCW) under his real name, he joined the World Wrestling Federation full-time in the summer of 1998 and was given the name Gangrel.
Gangrel, who portrayed a vampire gimmick, became famous as the leader of the faction 'The Brood' with Edge & Christian … and later on as the leader of 'The New Brood' featuring The Hardy Boyz.
He returned briefly in 2004 to wrestle The Undertaker, and again in 2007 to participate in the 15-man Battle Royal on the 15th Anniversary WWE Raw special.
HAPPY BIRTHDAY GANGREL!