This is part 4 of our WrestleMania Backlash 2022 live coverage (part 3 is here).
Up next is the "I Quit" match for the SmackDown Women's Championship. Ronda Rousey makes her way out first, followed by the champion, Charlotte Flair.
This is an absolute fight, as both women are brawling outside with Kendo Sticks.
They are now brawling in the crowd area and Flair is trying to break Ronda's back by trapping her between a railing.
The action comes back to the ringside area. Flair powerbombs Ronda on the barricade and asked her to quit, but Ronda didn't.
Ronda picks up Charlotte on her shoulders, but Charlotte hurt Ronda's eyes and sends her face-first into the ring post.
Flair goes to the top rope, but Ronda takes her down and locks in the Armbar while Flair's legs were trapped on the top rope.
Charlotte still refused to quit and both of them fell down on the floor.
A kid is wearing The Fiend mask in the front row and Pat McAfee asks on commentary if that's The Fiend.
Charlotte hits Ronda with a Natural Selection in the ring on top of a Steel Chair. The referee asks Ronda if she quits, but Ronda says no.
Flair locks in the Figure 8 Leg Lock, but Rousey refuses to quit and breaks out of it by hitting Flair with a Steel Chair.
Charlotte gives Ronda one last chance and wished her Happy Mother's Day. Ronda then locked in the Armbar on Charlotte through a Steel Chair and Charlotte quits!
Ronda Rousey def. Charlotte Flair (c) in an I Quit match to win the SmackDown Women's Championship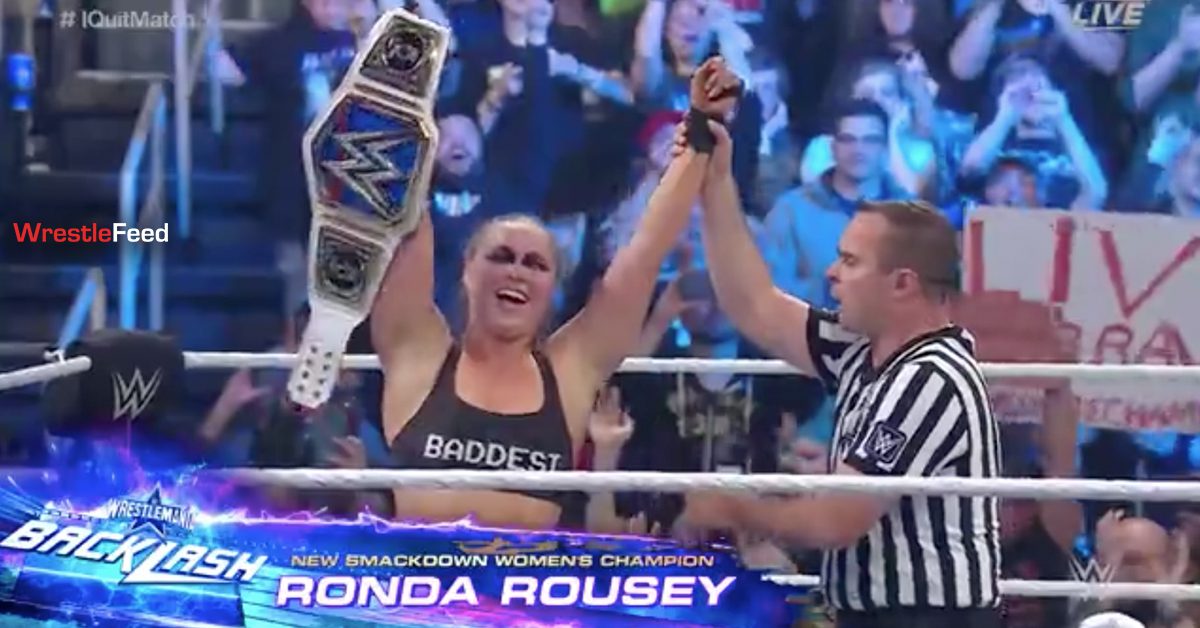 WATCH: AEW Star Paige VanZant Completely Exposes Her Buns: