This is part 6 of our WWE Crown Jewel 2019 live coverage (part 5 is here).
Up next is Team Hogan vs. Team Flair in a 5 on 5 tag team match. Team Flair comes out first and then Team Hogan.
Hulk Hogan, Roman Reigns and Randy Orton got HUGE pops from the crowd! Reigns got a big time pyro entrance.
BIG. DOG. MOOD.#WWECrownJewel @WWERomanReigns pic.twitter.com/JmQNDpFXEt

— WWE (@WWE) October 31, 2019
Shorty G (from Team Hogan) and Intercontinental Champion Shinsuke Nakamura (from Team Flair) begin the match.
Shorty G delivers two Belly To Belly suplexes to Nakamura and goes for the cover, but Nakamura kicks out.
Nakamura tags in King Corbin. Ali tags into the match. Ali tries to pin Corbin after a face-buster, but Corbin kicks out.
Corbin tags in Bobby Lashley and Ali tags in Rusev. Rusev goes after Lashley, but Lashley quickly tags out and Drew McIntyre enters the match.
Roman Reigns finally gets the tag in the match and he's clearing the ring! Reigns hits the Drive By on Orton & Lashley.
Reigns delivers a big boot and leg drop to Corbin and pays homage to Hogan!
Reigns delivers a Superman Punch to Lashley and Dives over the top rope to take everyone down!
#RKOOuttaNowhere? @WWERomanReigns has a plan for that. #WWECrownJewel #TeamHoganVsTeamFlair pic.twitter.com/GdkirwcJBD

— WWE (@WWE) October 31, 2019
Orton RKOs Reigns out of nowhere and goes for the cover, but Reigns kicks out at 2.5!
SUPERMAN PU–RKO! RKO! RKO!#WWECrownJewel #TeamHoganvsTeamFlair @RandyOrton pic.twitter.com/fSkc0jauyx

— WWE (@WWE) October 31, 2019
Fans are going crazy for this match!
Orton is looking to hit a Punt Kick, but Shorty G stops him. Orton RKOs Ali and men from both teams are taking out each other.
Reigns Spears Orton and picks up the win for his team!
Team Hogan def. Team Flair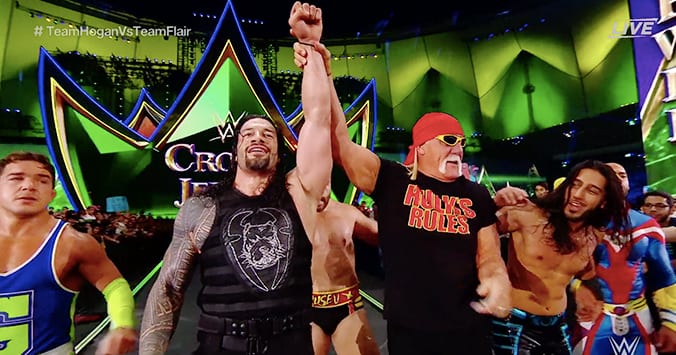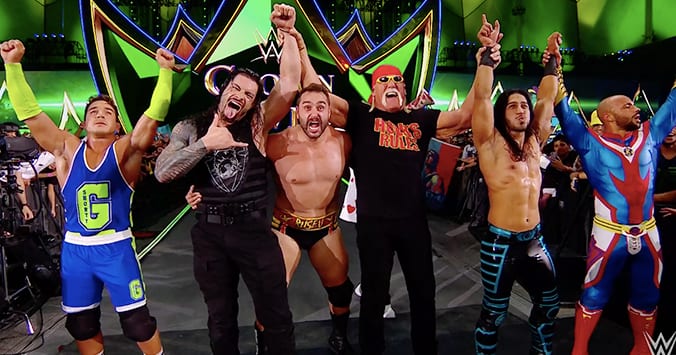 WATCH: New WWE Diva Scarlett Bordeaux Groped By A Fan: