• On This Day In Pro Wrestling History (June 27, 2019) – Old School WCW Veteran Passed Away
On this day in 2019, we lost Old School WCW Veteran Maxx Muscle (Real name: John Czawlytko) at the age of 56.
After training at the famous WCW Power Plant, John gained some experience on the weekly TV shows in 1993 & 1994 as "Big Bad John".
In 1995, he was repackaged as a bodyguard for Diamond Dallas Page, called Maxx Muscle.
The two broke up in 1996 and briefly feuded with each other in 1997, before Maxx was released from World Championship Wrestling.
HAPPY BIRTHDAY & † REST IN PEACE
February 22, 1963 – June 27, 2019
• WWE Doesn't Want Talent To Tweet About Positive COVID-19 Tests
WWE employees who tested positive for COVID-19 broke the news through their social media accounts. The 5 confirmed names so far, Renee Young, Kayla Braxton, Adam Pearce, Tyreke and Jamie Noble did so.
However, WWE doesn't want anyone to tweet about it.
The Wrestling Observer noted the following about it:
"I can tell you for a fact that the company doesn't want anyone tweeting about it if they are positive. I have heard other names that have tested positive that have not tweeted about it.
The in-ring talent and staff are not the only people who have tested positive. There are some friends and family that are now affected."
It was also noted that none of the WWE executives reached out to Renee Young after she announced she tested positive for COVID-19. Young didn't find out that she had the virus at a WWE testing, but she found it out when she herself went for a test to a doctor.
An anonymous WWE talent sent the following information to Wrestlinginc regarding WWE not wanting talent to talk about their positive test openly: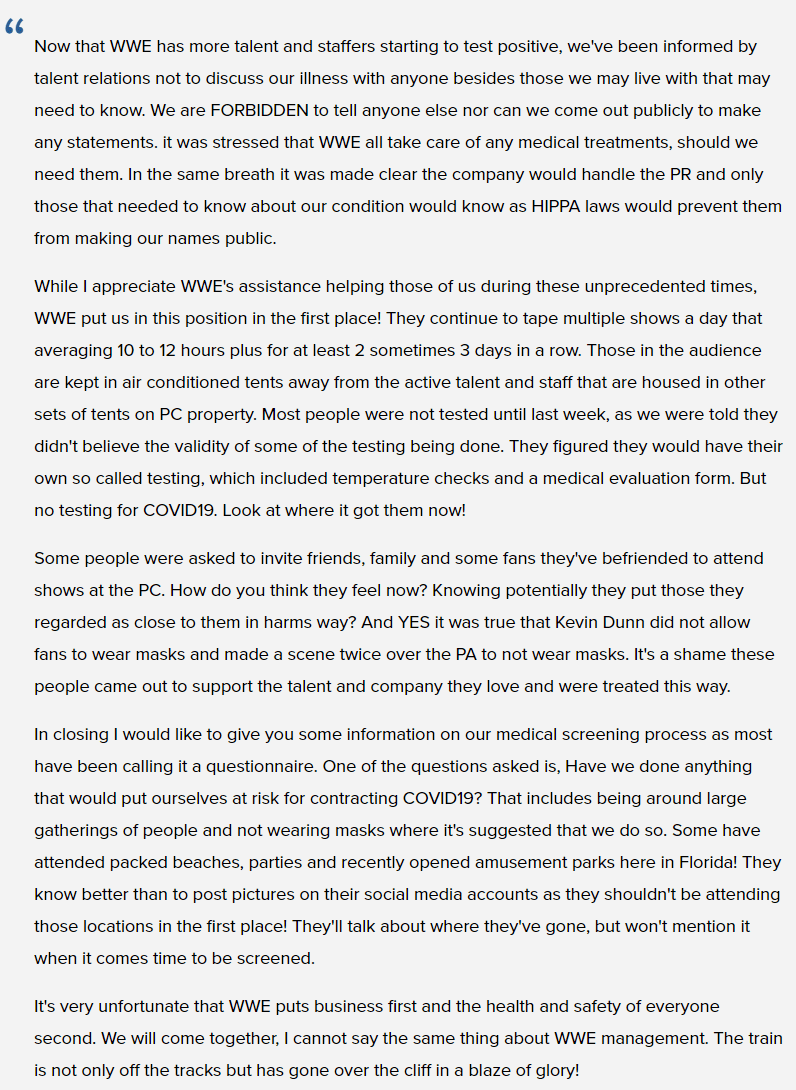 Also Read: Natalya Reportedly Not Working RAW Tapings Due To COVID-19 Concern