• WWE Fired A Ring Girl For Not Knowing Stephanie McMahon & Vickie Guerrero
While speaking to Tommy Dreamer on his House of Hardcore podcast, former WWE wrestler Jimmy Wang Yang recalled WWE firing Amy Zidian for not knowing who Stephanie McMahon or Vickie Guerrero was.
Below is what he said:
"I remember meeting her and she said, 'I want to be your ring girl.' I wasn't ribbing her but I told her to put on some daisy dukes and go ask him (Vince McMahon) if you can. She put some daisy dukes on, walked straight up to Vince during rehearsals and said, 'can I be Jimmy Wang Yang's girlfriend?' He said, 'sure, why not?'
We debuted her and one week went by. The second week we were introducing her again. I'm standing there ready to do the pretape. Stephanie walks by and Amy reaches over and says, 'hey, I'm Amy, who are you?' I left.
She didn't know who Stephanie McMahon was. Stephanie blew it off because she was a Diva Search girl so they don't know wrestling. I thought it got swept under a rug. I wasn't there for the second story but I heard she was in the locker room with Vickie Guerrero. They are having their girl talk and she asked Vickie, 'so how did you get in the business?'
I think that's the one that blew up because then we were in Boston at the arena, Regal and Taylor were in the ring and we were doing a tag or a six-man. I went to the gorilla to go out through the entrance and Johnny (Laurinaitis) and Dean (Malenko) grabbed her and told me to just go to the ring. I got in the ring and Regal asked where's your bird at. I said, 'I think she just got fired.' I think it got around that she didn't know who Stephanie was. She didn't know who Vickie was. Ok, this girl definitely doesn't belong in this business."
Also Read: "You kiss like a damn fish" – Stephanie McMahon To Former WWE Champion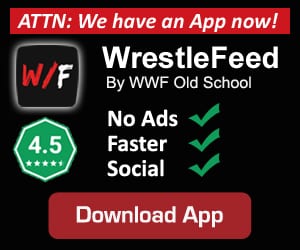 WATCH: Stephanie McMahon Shakes Her Hot Juggs:
You can download our official WrestleFeed mobile app to check out more Wrestling news & Divas content. Tap here to download.
• On This Day In Pro Wrestling History (October 3, 2017) – Legendary Old School Announcer Passed Away
On this day in 2017, we lost legendary Old School Announcer Lance Russell at the age of 91.
Lance Russel is well remembered as the voice of the Memphis Wrestling territory that during his career changed it's name from NWA Mid-America to CWA Continental Wrestling Association and later on to USWA United States Wrestling Association.
Russel also worked for Ted Turner's WCW World Championship Wrestling from 1989 till 1993, as well as for Jim Cornette's SMW Smoky Mountain Wrestling in 1995.
† REST IN PEACE
March 18, 1926 – October 3, 2017