• WWE Hall Of Famer Doesn't Want AEW To Sign Ryback
Former WWE wrestler Ryback recently teased an in-ring return and WWE Hall of Famer Mark Henry doesn't want The Big Guy to have a successful return.
During a recent edition of Busted Open Radio, Henry advised AEW officials to not sign Ryback.
Here's what Henry said:
"I hope that the good ol' folks at AEW sees the snake in the woodpile and says, 'No thank you,' because you can say whatever you want, but you have to believe somebody when they say with their own words how they feel.
There's another WWE Legend that had to live with the fans and the talent not respecting them like they used to. I think this is the same category that he's going to be in.
Nobody is going to look at him and go, 'He was just joshing like he said.' He talked about the sympathy plea in the second section of his rebuttal. He said, 'Oh, my back is so jacked up and I'm hurt. I had to step away from the business and I can't do what I used to do.' Yada, Yada, Yada.
There's no sympathy there. We all hurt. We all sacrificed our bodies but the one thing we all didn't do is we didn't attack the business. We didn't say that the business is fake, in those words. We know that it's scripted.
This is a lot of work that goes into your craft to make it so good that people don't care about it being scripted. They want to see great performances. They want to be put in suspended belief and when you say titles are a prop, you mean to tell me that Tony Khan is going to stand there and say, 'Oh yea, come on over. Come on and hold our prop up.'
Brodie Lee didn't win anything. I know fishing when I see it. You think Tony Khan doesn't know fishing when he sees it. You think that's going to boost the ratings.
Let me tell you what that's going to do. That's going to make the real fan go, 'Damn. Is the money that important?' That's what it's going to do. From comments from other wrestlers that have basically taken my side and said what they said about me that's there, I doubt it.
If it happens, I'm not going to boycott watching AEW. I wouldn't do that, but I'm going to tell you what. I would think differently about the people that's involved. I would think that maybe I'm the only one who's sentimental about something that I love like the fans are."
Also Read: Chris Jericho Reacts To The Beef Between Mark Henry & Ryback
WATCH: Lana Spanks Carmella In A Bikini:
You can download our official WrestleFeed mobile app to check out more Wrestling news & Divas content. Tap here to download.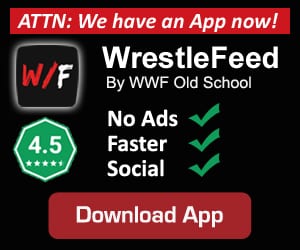 • Old School WrestleMania Celebrity Celebrates His Birthday
Old School WrestleMania Celebrity "Mr. Baseball" Bob Uecker celebrates his 87th birthday today.
Uecker appeared as the guest ring announcer for the WrestleMania III main event and returned the following year at WrestleMania IV as a backstage announcer and even did commentary for the opening match.
In 2010, the Sportscaster Hall of Famer was also inducted into the Celebrity Wing of the WWE Hall of Fame by NBC Legend Dick Ebersol.
HAPPY BIRTHDAY BOB UECKER!