• WWE Hall Of Famer Thinks Losing Doesn't Hurt The Fiend
On the newest episode of his weekly podcast, two time WWE Hall Of Famer Booker T talked about the Randy Orton vs. "The Fiend" Bray Wyatt match from WrestleMania 37 and explained why the wins/losses numbers don't matter for The Fiend character.
Here's what the former Harlem Heat member had to say:
"I said it many, many times and I don't know if anybody's hearing me or not, The Fiend's career is not about wins and losses.
I don't think it should be about wins and losses because I mean, we saw what happened. The Fiend got beat, lights go out, everybody disappeared, so did The Fiend really get beat? Could The Fiend have kicked out? Is The Fiend taking Randy Orton on a ride? What's going to happen next? 'To be continued!' That's the way I look at it.
I think The Fiend is more character-based than anything, man. I think The Fiend is just to make the story something different as far as The Fiend goes, as far as Bray Wyatt goes, as far as the mixing of those characters.
'One day I'm happy, one day I'm mad,' you know? You got Alexa Bliss as well playing this role. Something totally different than she's done before."
Also Read: Update On Randy Orton's Future In WWE
WATCH: Tay Conti Has The Best Buns In AEW (Part 5):
You can download our official WrestleFeed mobile app to check out more Wrestling news & Divas content. Tap here to download.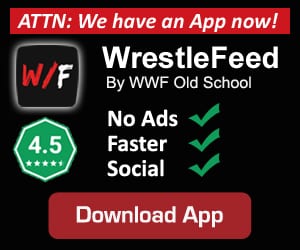 • On This Day In Pro Wrestling History (April 14, 1975) – WWWF MSG House Show
On this day in Pro Wrestling history on April 14, 1975, the World Wide Wrestling Federation held a televised house show in the world's most famous arena, Madison Square Garden in New York City, New York.
Here are the results from that night:
Mike Paidousis defeated Tony Altimore
Greg Valentine defeated El Olympico
Waldo Von Erich defeated Chief Jay Strongbow by count-out
Little Tokyo & Lord Littlebrook defeated Little Louie & Sonny Boy Hayes
WWWF World Heavyweight Title: Bruno Sammartino (C) defeated Spiros Arion
Edouard Carpentier defeated Joe Nova
WWWF International Tag Team Titles: Jimmy Valiant & Johnny Valiant (C) defeated Manuel Soto & Pete Sanchez
Victor Rivera wrestled Bobby Duncum to a draw