– Tonight's episode of WWE Monday Night RAW kicked off with "Stone Cold" Steve Austin's music hitting and the crowd popping big time.
However, it's Kevin Owens dressed as Austin. Owens asked the fans if they're ready to see him open up a can of whoop a$$ on Austin at WrestleMania.
The crowd booed and chanted "We Want Austin". Owens said this crowd is the stupidest sons of b*tches he has ever seen.
Austin's music hit again and Owens is stunned and the crowd goes crazy again! However, nobody came out and Owens laughed that he fooled the fans again.
GLASS SHATTERS! STONE COLD IS HERE!!!@FightOwensFight #WWERaw pic.twitter.com/pc9W5Asdok

— WWE (@WWE) March 22, 2022
Owens said Austin needs some 'liquid courage', so he asked for beers. The WWE crew member threw beers in the ring, but Owens failed to catch it.
Kevin yelled at him and called him to the ring to hand him the beer. The crew member came to the ring to hand him the beer and Owens hit that person with the Stunner.
KO! KO! KO! KO!

STUNNER!!!!@FightOwensFight #WWERaw pic.twitter.com/AbWy3vA8YJ

— WWE (@WWE) March 22, 2022
The music hit again and Owens posed while impersonating Austin and the crowd booed.
…… WHAT?@FightOwensFight #WWERaw pic.twitter.com/BosXbREyQX

— WWE (@WWE) March 22, 2022
Instead of drinking the beer, Owens threw the can away.
THE DISRESPECT.@FightOwensFight @steveaustinBSR #WWERaw pic.twitter.com/8uSaiuCQLS

— WWE (@WWE) March 22, 2022
– Seth Rollins tried to hijack the show during a match and said he's not leaving until he gets a spot on WrestleMania that will live forever. His mic got cut off.
He confronted Adam Pearce and Sonya Deville about it and Adam said he'll see what he can do for Rollins.
– Dominik & Rey Mysterio def. NXT Champion Dolph Ziggler & Robert Roode (The Miz attacked Rey after the match and unmasked him)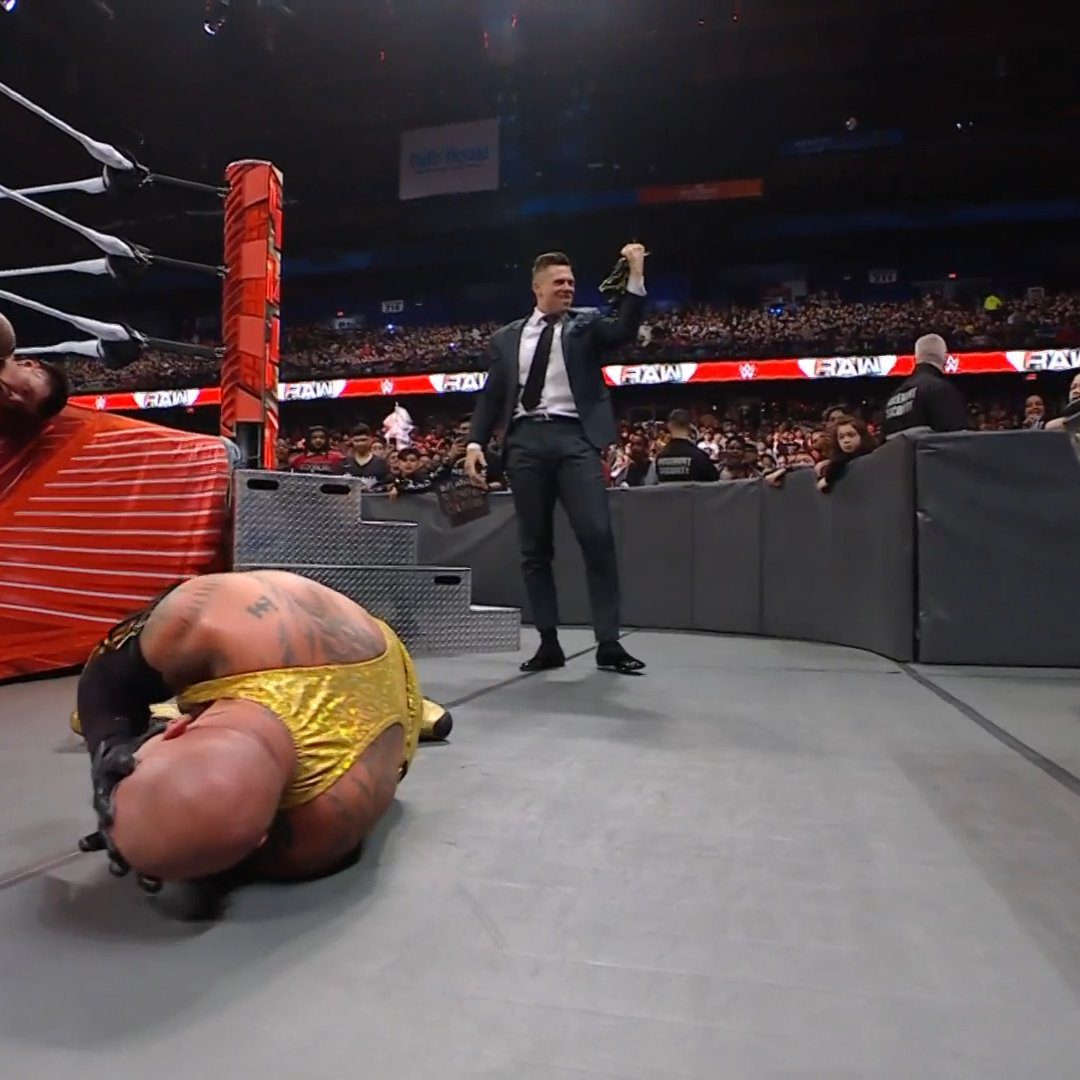 – WWE Champion Brock Lesnar and Universal Champion Roman Reigns will appear on next week's RAW, which will be the final episode before WrestleMania 38.
– In a backstage segment, The Miz claimed that Logan Paul used to be a big Rey Mysterio fan growing up and always wanted a Rey Mysterio Mask, but Logan finally met Rey and realized what a jerk he actually was. Miz said Logan will be on next week's RAW and he wants him to wear the mask.
– Omos def. Apollo Crews & Commander Azeez in a 1-On-2 Handicap Match
– AJ Styles returned on tonight's RAW and called out Edge. Edge didn't come out and Styles called him a coward.
Seth Rollins then came out. Rollins said AJ should go back home and return after WrestleMania, while he'll do at WrestleMania what he should've done inside Hell in a Cell – end Edge's career.
Adam Pearce announced that Seth Rollins will get one last shot to get on the WrestleMania card, and announced AJ Styles vs. Seth Rollins for tonight, with Seth replacing AJ at WrestleMania if Seth wins this match.
Styles confronted Adam & Sonya backstage for risking his WrestleMania match because Seth cries like a child.
*Go to the NEXT page to continue reading the RAW results