• On This Day In Pro Wrestling History (April 16, 2000) – WCW Spring Stampede 2000
On this day in Pro Wrestling history on April 16, 2000, Ted Turner's World Championship Wrestling aired 'WCW Spring Stampede 2000' LIVE on PPV from the United Center in Chicago, Illinois.
This was the first ever WCW pay-per-view after the April 10 – Eric Bischoff/Vince Russo reboot, as well as the first to feature the infamous New Blood vs. Millionaire's Club feud.
Here are the results:
Triple threat
Ric Flair and The Total Package defeated The Harris Brothers and The Mamalukes
Mancow defeated Jimmy Hart
Scott Steiner defeated The Wall via DQ
Mike Awesome defeated Ernest Miller
Shane Douglas and Buff Bagwell defeated Harlem Heat 2000
Sting defeated Booker T
Vampiro defeated Billy Kidman
Vacant WCW Hardcore Championship
Terry Funk defeated Norman Smiley
Scott Steiner defeated Mike Awesome
Sting defeated Vampiro
Six-Way – Vacant WCW Cruiserweight Championship
Chris Candido defeated The Artist, Juventud Guerrera, Shannon Moore, Lash LeRoux and Crowbar
Vacant WCW World Tag Team Championship
Shane Douglas and Buff Bagwell defeated Ric Flair and The Total Package
Vacant WCW United States Heavyweight Championship
Scott Steiner defeated Sting
Vacant WCW World Heavyweight Championship
Jeff Jarrett defeated Diamond Dallas Page
• WWE Star Continues Teasing His Departure
After getting removed from the casket match against The Undertaker at Greatest Royal Rumble, SmackDown Live Superstar Rusev teased his departure from WWE by removing all the references of WWE from his Twitter account (this comes after reports of Rusev asking for his release).
Rusev teased his departure once again by commenting "gonna miss you bud" under Aiden English's Instagram photo.
You can check out a screenshot below: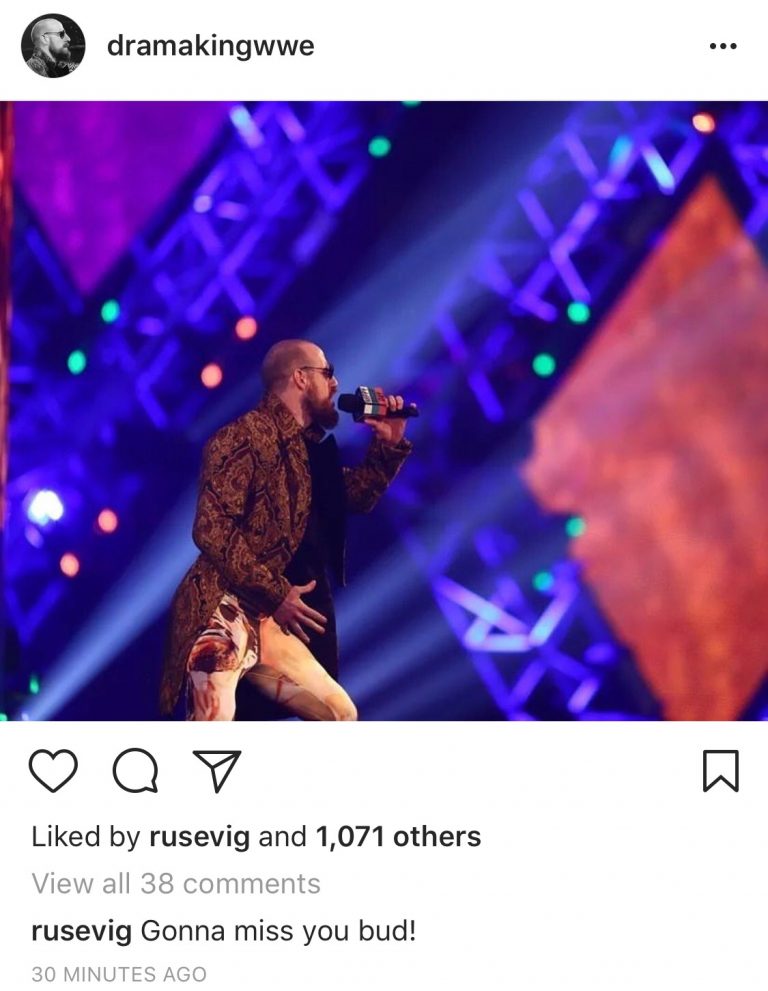 As we noted before, Rusev won't be leaving WWE.
Jimmy Traina of Sports Illustrated noted that WWE told him Rusev is still with the company and will be a part of the 50 man Royal Rumble match at the Greatest Royal Rumble event:
"Wrestling fans, I asked the WWE if Rusev has left the company. WWE said those rumors are not true, he is still with the company and he will be in the Royal Rumble match at Greatest Royal Rumble in Saudi Arabia."
Wrestling fans, I asked the WWE if Rusev has left the company. WWE said those rumors are not true, he is still with the company and he will be in the Royal Rumble match at Greatest Royal Rumble in Saudi Arabia. #RusevDay

— Jimmy Traina (@JimmyTraina) April 13, 2018