This is part 4 of our WWE Super ShowDown 2019 live coverage (part 3 is here).
Up next is Braun Strowman vs. Bobby Lashley. Lashley makes his way out first. There's a little podium for him to climb up on and he gets a special entrance as he poses to show off his physique and then the pyro goes off.
Strowman is out next and he throws Lashley's podium off the stage.
The match begins and they're testing their strength. Lashley lays out Strowman with a Running Powerslam!
Below is the 'Tale Of The Tape' that WWE released for this match: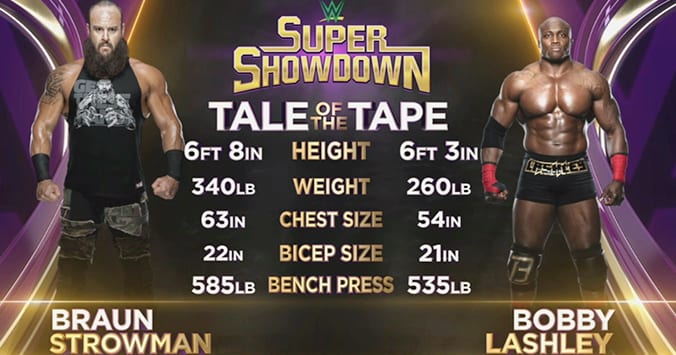 Strowman lays out Lashley outside the ring twice with his running tackles. Lashley fires back with a shoulder tackle and sends Strowman into the barricade.
Lashley suplexes Strowman on the steel ramp. Lashley is now on the top rope and Strowman pushes Lashley down into the ring.
Strowman hits a Spinebuster and a Running Powerslam to pin Lashley.
Braun Strowman def. Bobby Lashley
Up next is the WWE Championship match. Dolph Ziggler makes his way out first, followed by WWE Champion Kofi Kingston (accompanied by Xavier Woods). Kofi gets pyro in his entrance.
With this WWE Championship match, Kingston & Ziggler have now battled for all major singles Titles in WWE (except the Universal Championship).
After back & forth action, Woods nailed Ziggler with a kick from the outside and this led to Kofi taking advantage and hitting the Trouble In Paradise to pick up the win.
Kofi Kingston (c) def. Dolph Ziggler to retain the WWE Championship
Ziggler is interviewed backstage after the match and Ziggler calls Kofi a coward and says he should be WWE Champion.
Ziggler challenges Kingston to a Steel Cage match.
Up next is the 50 Man Battle Royal.
There are 50 men in this ring.

We repeat, ? THERE ARE 50 MEN IN THIS RING!!!!#WWESSD pic.twitter.com/s4W1IjUP7r

— WWE Universe (@WWEUniverse) June 7, 2019
NXT wrestler Mansoor and Elias are left in the end. Mansoor eliminates Elias to win the match to a big pop!
Mansoor wins 50 Man Battle Royal
.@KSAMANNY WINS THE LARGEST BATTLE ROYAL IN WWE HISTORY. #WWESSD pic.twitter.com/tIOMXxRTjA

— Italo Santana (@BulletClubIta) June 7, 2019
HE'S DONE IT!!!!!!!!!!!!!@KSAMANNY has won the biggest #BattleRoyal in @WWE history at #WWESSD!!! pic.twitter.com/1jcQlN0aWf

— WWE (@WWE) June 7, 2019
Fans chant "you deserve it" during Mansoor's post-match promo.