Let us take a look at the top 8 WWE News & Professional Wrestling stories of the hour:
---
8. Daniel Bryan Says some WWE Wrestlers Are Thinking Their Salary Is Being Reduced By The Brand Extension
During a recent appearance on the Bear Hug It Out Wrestling Podcast, SmackDown Live's General Manager Daniel Bryan talked about the Brand Extension and wrestlers feeling that they are losing money due to it. Below is what Bryan said:
"Some of the WWE stars don't like the brand split because everyday that you're on the road and not working, you don't get paid. So you're spending money and not getting paid. So it just becomes like, 'okay, so now I'm making less money, but spending the same amount of being on the road and that sort of thing'. But pretty soon, we're going to start doing SmackDown live events on Monday nights, the same night as Raw, so then that's going to even out a bit. And I think that extra day on the road at home makes a huge difference. I mean, there's a huge difference between leaving on Friday and coming home on Wednesday and leaving on Saturday and coming home on Wednesday or leaving on Friday and coming home on Tuesday. So I think it's going to be better for the health of everybody."
---
7. WWE Cruiserweight Classic Finalists To Receive Medals, Will Zack Sabre Jr. Sign With WWE?
According to Pro Wrestling Sheet, the finalists of the Cruiserweight Classic tournament will receive medals. You can check out the medal below: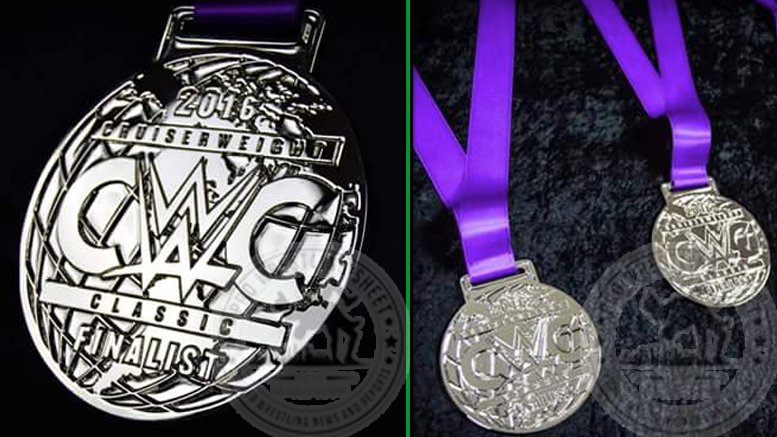 With WWE bringing back the Cruiserweight Division on Raw, officials are signing wrestlers from the Cruiserweight Classic to WWE deals (Kota Ibushi, Gran Metalik to name a few). But Zack Sabre Jr. isn't expected to sign with WWE as he has some goals that he wants to achieve outside the WWE. It is also being said that he could be making more money on the Indy scene by working less dates than working the WWE schedule.