• ON THIS DAY IN WWF HISTORY (May 27, 1985) – WWF on A.M. Chicago
On this day in 1985, the World Wrestling Federation was featured on an episode of 'A.M. Chicago'.
"A.M. Chicago" was a local talk and variety show in the Windy City starting in 1974. By 1983, the show was last in the ratings, which prompted the station manager to hire Oprah Winfrey.
Oprah had risen from an abused past in the Milwaukee ghettos into becoming a charismatic young newscaster then working in Tennessee.
The move created a sensation no one saw coming as Winfrey took "A.M. Chicago" to number 1 in the market, and by September 1986 the show was nationally syndicated.
This episode takes look at the "A.M. Chicago" cameras following Oprah as she ventured into a WWF show at the UIC Pavilion in Chicago, Illinois on May 24, 1985, 3 days before this aired.
"Gentleman" Jerry Valiant calls the action at ringside with Oprah.
You can find the card below:
JYD & Tito Santana vs. Greg Valentine & Brutus Beefcake
Ivan Putski vs. Jesse "The Body" Ventura
WWF Champion Hulk Hogan vs. Don Muraco
• WWE Wrestler Says Shane McMahon Thanked Him For Not Punching Goldberg
Former NXT Tag Team Champion Matt Riddle was a special guest on today's episode of WWE's The Bump.
Riddle talked about his confrontation with WWE Hall Of Famer Goldberg backstage at SummerSlam 2019. Goldberg told him that he was not his bro.
Riddle revealed that Shane McMahon was worried that things would get physical between the two, when they crossed paths backstage. He later thanked Riddle for not punching Goldberg at that moment.
Below is what Riddle said:
"Shane McMahon was watching from down the hall like, 'Oh no, these guys are gonna fight.' And after, Shane was like, 'Thanks for not swinging on Goldberg.'
Could you imagine? Matt Riddle punches Goldberg unconscious in the back. I can't do that. That is not a stallion move. You get a match set-up and beat him in front of millions. That's a Stallion move."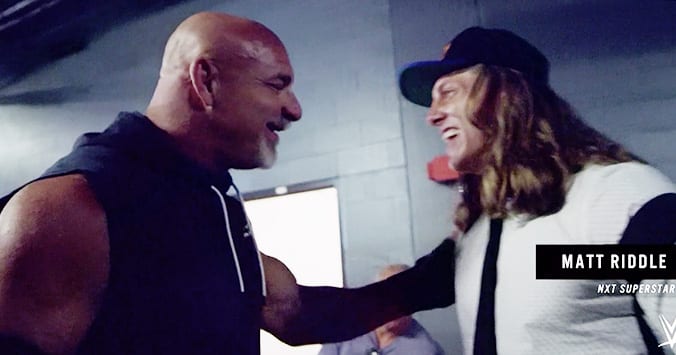 Speaking of Riddle, he's reportedly set to get called up to the WWE main roster soon (tap here to know which brand he'll end up on).