• WWE's Backup Plan For Drew McIntyre At TLC 2020 (Exclusive)
Drew McIntyre' next defense of the WWE Championship will come at the TLC 2020 pay-per-view next month.
The winner of the Triple-Threat match between AJ Styles, Keith Lee and Riddle on RAW tomorrow will get a shot at McIntyre's Title.
However, the Wrestling Observer reported that Braun Strowman will be the one to challenge McIntyre for the Title, but those plans are in jeopardy now as Strowman suffered a knee injury at Survivor Series.
WWFOldSchool.com reached out to a source to get a word on plans for McIntyre at TLC.
We were told that WWE officials are hoping that Strowman recovers quickly, so that he can compete at TLC, but in case his injury is serious, then the company has a backup plan ready.
The plan will see AJ Styles winning the Triple-Threat match tomorrow to go on to face McIntyre at TLC.
WWE has had plans for Styles vs. McIntyre, and they were building Styles up for it by having him lead Team RAW to a 5-0 win against Team SmackDown, but the feud was supposed to start in 2021.
It's likely that WWE had planned to do Styles vs. McIntyre during the WrestleMania season, but they'll have to do it earlier if Strowman is forced to be out of action.
In an interview with Daily DDT earlier this year, McIntyre expressed his desire to face Styles at some point in WWE.
"AJ Styles certainly floats around the top of the list. Him and I have been like ships in the night for the past few years.
When I was gone from the company, he was the biggest star for years, independent wrestling, and he was in Japan at the time, and there was a chance we were going to be the same company and things didn't work out, and then a bunch of independent companies decided to book us together and timing didn't work out, then he came back anyway to WWE, and then finally I came back to WWE, eventually we're on the same roster, and I think I was a bad guy, he was a good guy, and then suddenly he's a bad guy, and oh, that other match is probably not going to happen, and then I'm a good guy, he's a bad guy, oh, we got a match that is going to happen, then he goes to SmackDown, so over the years when I look at the lay the land and AJ and I keep missing each other, and I think recently on his Twitch stream, he talked about a few dream matches of his, and one with myself at WrestleMania would be high on his list, which is so cool, because I really AJ, I really want that match.
When it happens, I want people to know it's been a long time coming, years coming."
WATCH: AEW Wrestler Tay Conti's Big Buns (Part 1):
You can download our official WrestleFeed mobile app to check out more Wrestling news & Divas content. Tap here to download.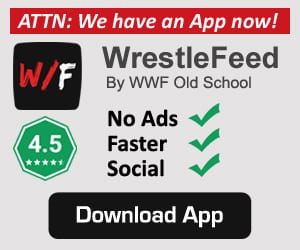 • Old School WWF Manager Celebrates His Birthday
Old School WWF Manager Uncle Zebekiah (Real name: Wayne Keown) celebrates his 71st birthday today.
During his active professional wrestling career, he wrestled for several territories as Dutch Mantel (or Dutch Mantell), including Championship Wrestling From Florida (CWF), the Continental Wrestling Association (Memphis Wrestling), Georgia Championship Wrestling (GCW), World Championship Wrestling (WCW), … among several others.
In early 1995, he joined the World Wrestling Federation as Uncle Zebekiah, to manage The Blu Brothers, Jacob & Eli Blu; and when they were released by the end of the year, he started to manage Justin "Hawk" Bradshaw (JBL's first WWF character) for the entire year 1996.
Dutch eventually returned to the now renamed WWE in early 2013, this time as Zeb Colter, as the manager of Jack Swagger & Antonio Cesaro.
HAPPY BIRTHDAY UNCLE ZEB!