• Old School Wrestling Veteran Celebrates His Birthday
Old School ECW Veteran C.W. Anderson (Real name: Chris Wright) turns 48 today.
Anderson joined Paul Heyman's Extreme Championship Wrestling in 1999 and stayed with the promotion till the bitter end.
Later on he appeared at the 2005 ECW (WWE) One Night Stand and then became a member of the 'WWE ECW on ScyFy' roster, but only wrestled 1 televised match on the show before being released in 2007.
Chris then went back to independent wrestling, which is where he is still working today.
HAPPY BIRTHDAY C.W. ANDERSON!
• WWF Legend Getting Heat For Being A Liar & Manipulator
As we noted before, Old School Wrestling Promoter Jerry Grey took to Facebook to reveal how Old School WWF Legend Jake "The Snake" Roberts scammed him for years.
You can read the story below:
"The long story of Jake the snake Roberts debts to me – This is one of the scams Jake Robert's did on me nearly every month from 1997-2001. I was booking between 2-4 shows per week running shows all over the country, Jake would call me and say he was in Jail for Child support (of course I knew after a couple times it was for crack, and btw I had him off crack several times at his worst addiction point, but right when we got to my next show in vermont, I won't say who but a couple of top tag team stars took him to the hood and he was right back on crack, George Steele knew I had Jake straight told me he almost cried when he saw Jake was high on Crack again after George knew how hard I worked to get Jake clean), that he wouldn't be at my show unless I wired $500, then when I would fly him to the show he would say no please don't take that $500 out of my paywait till next show and of course Jake would say the same thing the next show on and on.
These shows were fairs and casinos so Jake would be on top vs Honky Tonk Man (who in 20 years of using Honky he has never missed a show or even been late for me), but if Jake would have not showed the fair would deduct a significant amount of money from my contract and Jake knew and used this for leverage to drain money from me constantly.
Then he started no showing the last times I used him after he would make up more lies getting me to wire his pay up front.We were room mates in Charlotte 1983 for a year and were like best buds for many years, that's why I trusted him, I never asked for a dime back of the around $10,000 that he owes me for all the above, and that doesn't even count he stayed at my house for weeks at a time and I paid all his meals etc. and all the flight monies I lost when he no showed many shows, even a Saudi Arabia tour where the flight was $2,500 with no refund only to Aurelian Smith the name in the tick.
I never asked Jake for a dime back until my savings were depleted and I lost my house a few years ago when I was first diagnosed with stage 4 colon metastasis to liver cancer, reached out to Jake and he has ignored every email & call that I have ever made and I never even asked for any amount, would have even appreciated him saying some kind words really, but I didn't even get that. Just wanted to explain what it was all about so it wasn't just $2,000."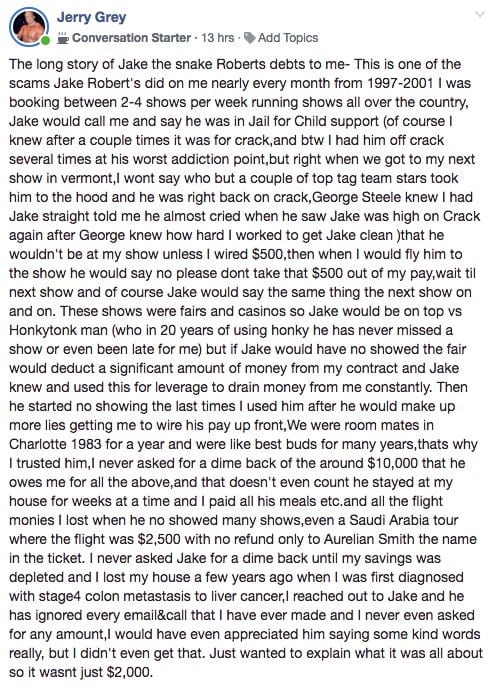 With this story coming out, Jake is beginning to get some heat from the fans.
Brian Last (co-host of Jim Cornette's podcast) posted on Twitter that Jake is still a liar and manipulator, and used the hashtag #PayJerryGrey to support Jerry.
The people who enable & prop up @JakeSnakeDDT so that they can profit off his "redemption" and "resurrection" are a major part of the problem. He is the same flake he always was. Still a con man, still a liar & manipulator. #PayJerryGrey

— The Great Brian Last (@GreatBrianLast) January 5, 2019
We all know the horror stories that promoters & wrestlers have about @JakeSnakeDDT from the '90's & '00's. Important to note that I have heard from many people with recent stories of Jake's behavior and treatment of others. It isn't addiction, folks, it's him. #PayJerryGrey

— The Great Brian Last (@GreatBrianLast) January 6, 2019
WATCH: Stacy Keibler's Skirt Pulled Down: