• "You really need to stop crying about it. It's embarrassing" – RAW Wrestler To Goldberg
During his appearance on WWE's After The Bell podcast, Corey Graves asked Goldberg's opinion on The Undertaker saying that current WWE product is "soft".
Goldberg had the following to say about it:
"Yes, I believe, comparatively, the business is soft – but the business is in 2021, so things have to change and things have to be different.
Like I said, times are quite different than they were back then, but today people are soft, people take offense to things way too quickly. Get a little thicker skin, boys and girls, that's all I can say."
Goldberg also said the following about the current wrestlers not appreciating Legends coming back and bringing old school wrestling fans back with them to watch the shows and PPVs:
"When legends came in when I was in the business, in the beginning, I was greatly appreciative of the eyes they brought to our product and one day those young kids are going to be just like me and I hope that karma comes back to bite them in the a$$, that's all I can say.
Because at 54 years old, I don't know one of them that could be doing what I do."
RAW wrestler Riddle posted a video on Twitter and had the following to say about Goldberg's comments:
"Let's talk about some thick and thin skin, shall we? Bro. Really? Really? Okay. You have very, very, very thin skin — it's like sheepskin thin. It's ultra thin. It's extra sensitive thin. That's how thin your skin is.
Let's be real, I'm not going to go down the chart of reasons why, but you know why your skin is thin, bro. We all know it.
And you know what? You really need to stop crying about it. It's embarrassing, stop being a baby. And good luck tomorrow, bro, you'll need it."
Thick or Thin #WWERoyalRumble pic.twitter.com/JW1ELWWwnU

— matthew riddle (@SuperKingofBros) January 30, 2021
Also Read: Natalya Possibly Spoils Royal Rumble 2021 Surprise
WATCH: Torrie Wilson Grabs Her Knockers:
You can download our official WrestleFeed mobile app to check out more Wrestling news & Divas content. Tap here to download.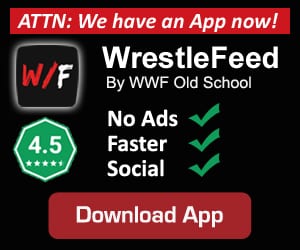 • Old School WCW Veteran Celebrates His Birthday
Old School WCW Veteran "The Belfast Bruiser" Fit Finlay (Real name: David Finlay) turns 63 today.
Dave Finlay started wrestling in 1974 and became one of the most famous European wrestlers in the history of this business.
Finlay is well remembered for his 1995-2000 WCW career, but also wrestled on WWE TV & PPVs later on, from 2006 till 2010.
After retiring from professional wrestling, he became the official head coach for the WWE Divas.
HAPPY BIRTHDAY FINLAY!