The build-up to WWE Clash of Champions 2019 PPV started on this week's RAW and SmackDown.
After a star-studded SummerSlam that crammed in all possible talent both past and present, Clash Of Champions will have to pull out some creative – and unpredictable – rabbits from the hat so it goes down in the history books as a great event.
This week on RAW, we saw several unexpected things, including Sasha Banks' return and Braun Strowman suddenly arriving out of nowhere to help Seth Rollins against The OC. In addition, we also saw the The Revival becoming the first ever co-24/7 Champions.
The following night on SmackDown, Kevin Owens was fined $100,000 for his actions against Elias at SummerSlam. Roman Reigns and Buddy Murphy also put on a spectacular match. The show ended with Randy Orton and The Revival decimating The New Day.
In this article, let's take a look at 4 matches which look imminent at WWE Clash Of Champions.
4. Kofi Kingston vs. Randy Orton – WWE Championship Match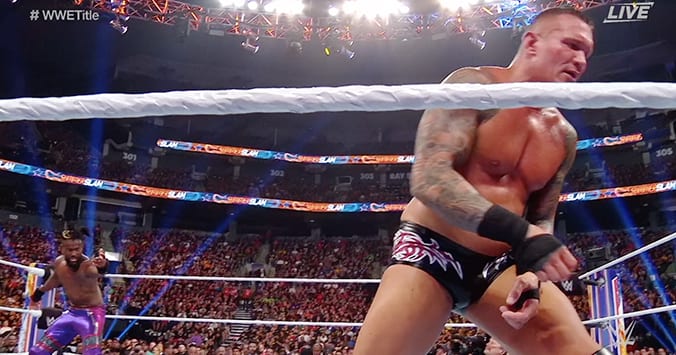 Kofi Kingston vs. Randy Orton has been in the making for 11 years. After constantly taking shots at each other over the past couple of weeks, the two locked horns at the 'Biggest Party of the Summer' this past Sunday.
However, the match ended in an unexpected way. Kingston and Orton gave all they had during the match, but Orton did something which took the WWE Champion to his limit. The Apex Predator tried to humiliate Kingston in front of his family during the match. Kingston could not take it easily, and gave a vicious beat-down to Orton. After hitting him with numerous Kendo-Stick shots, Kingston took him inside the ring, and hit him with a Trouble In Paradise.
The Viper came out this week on SmackDown, and teamed up with The Revival to defeat The New Day in the main event. However, the win was not enough for Orton. He laid out The New Day with an RKO to each member after the match.
Kingston will definitely be looking for vengeance on Orton, because of the comments he made about him pre match, and the beat-down he gave him and his New Day partners post match. We can expect the two to go face to face once again at the Clash Of Champions pay-per-view, after how their match ended at SummerSlam.
*Go to the NEXT page to continue reading this article