Brock Lesnar's fifth reign as the WWE Champion is now over 100 days long. The Beast Incarnate defeated Kofi Kingston to win the Title on SmackDown's premiere on FOX, and has only defended it twice since then.
His first defense came against Cain Velasquez at Crown Jewel 2019 in Saudi Arabia, followed by his second defense against Rey Mysterio at Survivor Series 2019. It looks like his next Title defense is still far away.
This coming Sunday, Lesnar will enter the Royal Rumble match as the #1 entrant, and become the fourth reigning WWE Champion to enter the match. The possible reason why he's entering the match is that WWE wants to set up his feud for WrestleMania 36 during it.
In this article, let's take a look at 5 wrestlers who could eliminate Brock Lesnar from the Royal Rumble match.
5. Samoa Joe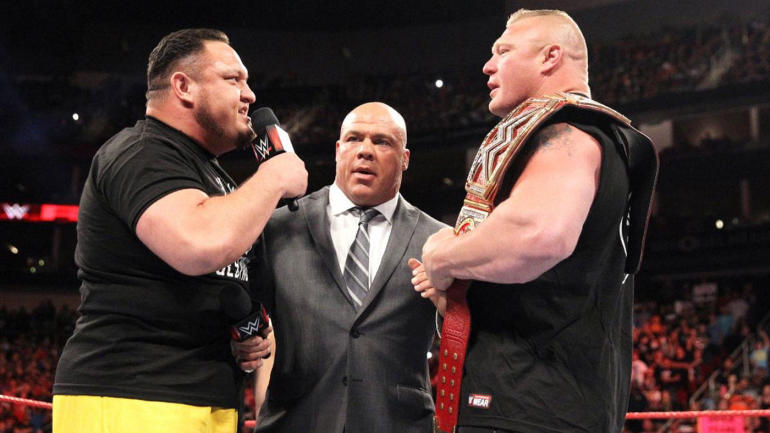 The Samoan Submission Machine is one of the few wrestlers on the current WWE roster who actually looks like someone who can stand up to Brock Lesnar.
With the look of a brutal wrestler, Samoa Joe is definitely one of the strongest contenders to eliminate Lesnar from the Royal Rumble match.
Joe hasn't been much on his own since returning to the ring. Although he has turned babyface, WWE should not restrict him from being vicious in the ring like he used to be with his heel persona.
In addition, Joe eliminating Lesnar would reignite their mini-feud from 2017, where he gave a very tough time to Lesnar. The brawl between Joe and Lesnar is quite memorable.
The feud can prove to be one of the best Brock Lesnar rivalries, if WWE books it on a long-term basis on the road to WrestleMania 36.
*Go to the NEXT page to continue reading this article