With WWE now done with the last pay-per-view of the year, TLC, they'll be heading to the Barclays Center in Brooklyn, New York tonight for SmackDown. The show will feature the fallout from TLC and also a little build-up towards the Royal Rumble 2020 PPV.
At TLC, Bray Wyatt defeated The Miz after which Daniel Bryan returned to save The Miz from Wyatt's post-match attack. In addition, The New Day defeated The Revival in a solid Ladder match to retain their SmackDown Tag Team Championship. Roman Reigns lost to King Corbin after The Revival and Dolph Ziggler interrupted the match.
The show ended in chaos when the whole locker room engaged in a brawl. Things reached their lowest point between The Big Dog and The King last Sunday and it seems the chaos will continue tonight.
In this article, let's take a look at 6 things that could happen on SmackDown tonight.
6. The Miz Addresses His Loss At TLC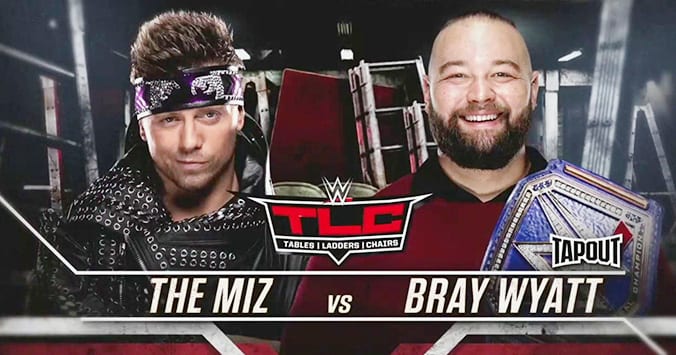 One week after The Fiend emerged from under the ring to brutalize Daniel Bryan and pull out his hair, The Miz waited for Daniel Bryan on Miz TV. He wanted answers of what happened between him and The Fiend, but Bryan did not show up.
The A-Lister knew something was wrong and therefore he got on a mission to expose Bray Wyatt. Wyatt responded in no time and started playing mind games with The Miz which led to the two men locking horns at TLC.
Bray Wyatt successfully defeated The Miz and completely got inside his mind at TLC.
Tonight, The Miz will be looking to address his failure against Wyatt last Sunday. Wyatt was about to brutalize him even more but Daniel Bryan made the save so we can expect him to call out Bryan as well.
Either The Miz will get along with Bryan against The Fiend or he'll tell Bryan that he didn't need his help. Whatever happens, one thing is for sure, The Fiend has his eyes set on both Bryan and Miz.
Dear Daniel Bryan,

Nobody likes a bully.

I was SOOOO excited to see you!?

PS: The Miz is tough

PPS: HE's coming for you all☠️☠️☠️

— Bray Wyatt (@WWEBrayWyatt) December 16, 2019
*Go to the NEXT page to continue reading this article