The AEW All In 2023 pay-per-view will take place at the Wembley Stadium in London on August 27th.
According to the Wrestling Observer, this is the largest paid attendance (not revenue) for a wrestling show since WWE WrestleMania 32:
"It is now the largest paid attendance for a pro-wrestling show since WrestleMania in 2016, which is the all-time record and would be difficult for this show to break, but not impossible."
WrestleTix provided the following latest update regarding the ticket sales for All In 2023:
"Available Tickets => 12,937
Current Setup => 87,825
Tickets Distributed => 74,888
The upper decks have opened up in full. More holds in the 100 levels have also been released.
Resale => 1,101
VIP => 268"
AEW President Tony Khan said the following about the success of All In 2023 at the Collision Festival recently:
"It's actually one of the biggest grossing wrestling events of all time.
There's only a couple WrestleMania shows that have ever been on this level.
We're a company that's only a couple of years old fighting a company that's been around for dozens."
CM Punk is one of AEW's top stars, but his status for this pay-per-view has been uncertain, as AEW hasn't added him to any posters for this show on their website or social media pages.
However, we can now confirm that Punk will indeed be a part of this show.
In the UK newspaper 'Metro', AEW paid for a full-page ad for All In and Punk is featured on it. You can check it out below: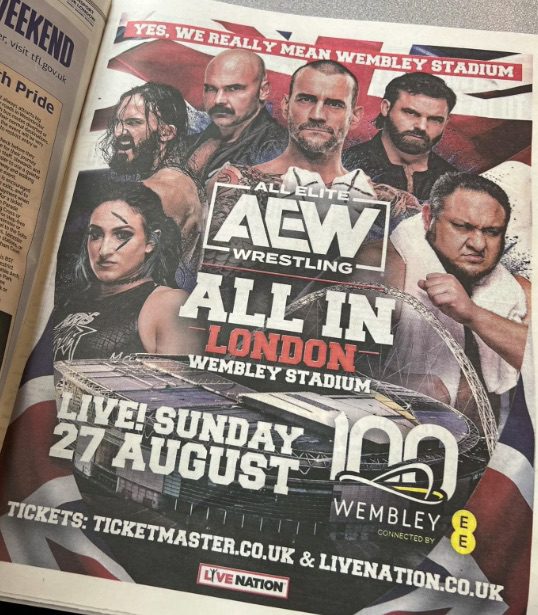 Also Read: AEW Wrestler Gone From The Company
New Video: AEW Wrestler Kiera Hogan Shakes Her Exposed Buns: