• "A singles match at WrestleMania 37 would mean a lot to me" – SmackDown Wrestler
During a recent appearance on WWE's After The Bell podcast, SmackDown Wrestler Cesaro said he wants to have a singles match at WrestleMania and he wants it to happen this year.
Cesaro said a singles WrestleMania match with a good story is all he wants:
"A singles match at WrestleMania 37 would mean a lot to me. Here's the thing though, the locker room is full of people that I would love to have a match with.
The thing is to have a match that people are invested in, me and Seth Rollins started to do something on SmackDown so maybe there's something there. I always have in my back pocket the best of 7 between me and Sheamus, that hasn't been decided.
For example, Big E for the IC Title, Shinsuke, there's a bunch. To me, I would love to have a singles match at WrestleMania 37 and have a good build up and good story going into it. I feel like this year this is a big possibility.
Every time somebody asks me 'What's your dream match?' or 'What's the match you want to have at Mania?' I'm like I don't know because if there's a good story into it, who cares? We looked around the locker room the other day, there's like nobody that I wouldn't want to have a match with, it's stacked."
Then in an interview with Sports Illustrated, Cesaro once again said he wants to face Seth Rollins at WrestleMania 37:
"The Universal Title match is currently spoken for, but this will start the road to next year's WrestleMania for me. I want a singles match this Mania, and I would love for it to be against Seth Rollins.
Seth is a tremendous talent, and he is so extremely versatile. Good guy, bad guy, he always finds a way to evolve, and he's super smooth in the ring. He's always pushing us to get better, and I think he incredible at what he does."
WATCH: Becky Lynch Shows Off Her Buns (Part 1):
You can download our official WrestleFeed mobile app to check out more Wrestling news & Divas content. Tap here to download.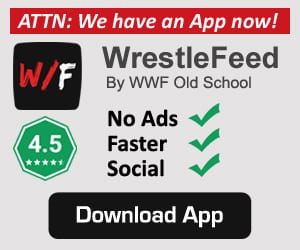 • Old School Wrestling Veteran Would Have Celebrated His Birthday
Today would have been the 57th birthday of Old School Wrestling Veteran Mike Von Erich (Real name: Michael Adkisson).
Mike was the son of World Class Championship Wrestling promoter Fritz Von Erich and the brother of David Von Erich, "The Texas Tornado" Kerry von Erich, Kevin Von Erich and Chris Von Erich.
He posthumously became a WWE Hall of Famer in 2009, when all of the above mentioned Von Erichs were inducted into the WWE Hall of Fame by "Freebird" Michael "P.S." Hayes.
HAPPY BIRTHDAY & † REST IN PEACE
March 2, 1964 – April 12, 1987