Let us take a look at the top 8 WWE News & Professional Wrestling stories of the hour:
---
8. Road Warrior Animal Says WWE Is Shoving Sasha Banks Down People's Throat
WWE Hall of Famer Road Warrior Animal, who recently sued WWE (along with other wrestlers), thinks that WWE is shoving "The Boss" Sasha Banks down people's throats. Below is what he wrote on his Facebook account:
"How much does WWE pay Muscle and Fitness to put there own on the cover. Common Sasha Banks another attempt to shove someone down people's throats. Let them get over themselves how bout that. Get real."
Below is a pic of Sasha Banks on the cover of Muscle & Fitness magazine: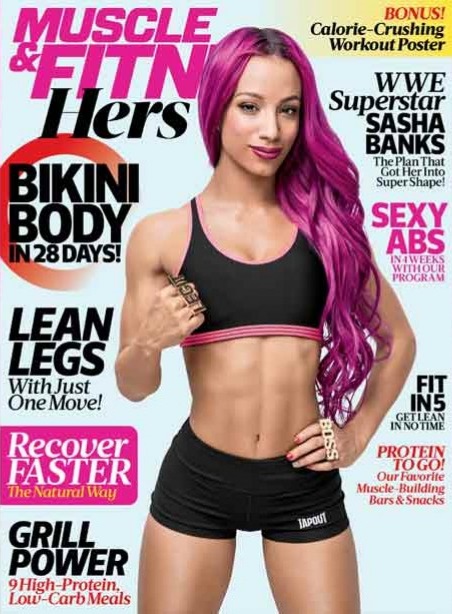 Speaking of Sasha, she will defend her newly won WWE Women's Championship at SummerSlam 2016 against Charlotte in a rematch:
---
7. "Broken" Matt Hardy Calls New Day/Wyatt's Compound Fight "Blasphemy", Mick Foley's Collection Added To WWE Network
During a recent appearance on Sam Robert's Wrestling Podcast, former TNA World Heavyweight Champion Matt Hardy, or should we write "Broken" Matt Hardy (his current TNA gimmick), talked about WWE doing The New Day & The Wyatt Family fight at the Wyatt Family's compound (which was similar to the Final Deletion match between Jeff & Matt Hardy). Below is what he said:
"I saw that blasphemy, that sacrilege. Nero, Wyatts, I know what they're doing. Oh, they are copying. They are mimicking. They saw the greatness of The Final Deletion. I went out and I deleted Brother Nero, the man who was a thorn in my side. They tried to jump on it, thinking they could use WWE and McMahon and his money to produce some masterpiece that could blow away what we put together as Final Deletion."
You can watch the Final Deletion match and the New Day/Wyatt Family compound fight below:
---
WWE has added Raw's General Manager Mick Foley's collection to the WWE Network. Below is the description:
"Prepare to delve into the unparalleled psyche of WWE Hall of Famer and Hardcore Legend, Mick Foley. Meet the three personalities that helped make 'Mrs. Foley's Baby Boy' a household name. From the insane antics of the deranged Mankind to the fun-loving hipster Dude Love, to the sadistic enigma Cactus Jack. Mick Foley has entertained the WWE Universe with his unpredictability and one-of-a-kind showmanship. Now, relive The Three Faces of Foley like never before in this memorable collection."
Another collection regarding Intercontinental Title matches at SummerSlam has been added as well.