• Old School Attitude Era Announcer Celebrates His Birthday
Old School WWF Attitude Era Announcer Michael Cole (Real name: Michael Coulthard) celebrates his 51st birthday today.
The experienced journalist started as a backstage interviewer on WWF RAW in 1997 and later became a play-by-play announcer on WWF SmackDown! in 1999.
Michael Cole is one of the few WWE employees nowadays, who has been with the company for more than 20 years.
HAPPY BIRTHDAY MICHAEL COLE!
• Alberto Del Rio Loses His WWE Championship (Video), Brock Lesnar's Former UFC Opponent Suffers Horrible Cut During MMA Fight
Yesterday was a big day in Combat Sports. Let's take a look at the major things that happened:
– Anthony Joshua defeated Andy Ruiz in their Boxing rematch in Saudi Arabia to win back his Heavyweight Titles that he lost earlier this year.
Joshua made $85.7M, while Ruiz made $10M. This doesn't include the PPV cut.
– UFC Legend Tito Ortiz defeated former WWE Champion Alberto Del Rio in the first round of their Combate Americas MMA fight via Submission.
You can watch it below:
Tito now owns Del Rio's WWE Championship title belt: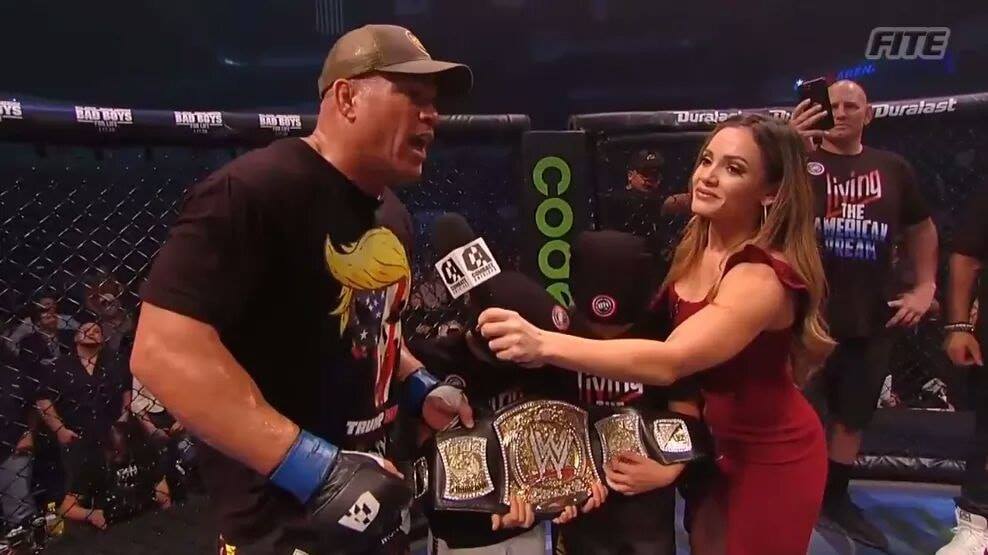 Ortiz then had a Twitter exchange with US President Donald Trump regarding his win:
Congratulations to @TitoOrtiz on tonight's huge WIN, a Great American Patriot! https://t.co/m4tJpfzVte

— Donald J. Trump (@realDonaldTrump) December 8, 2019
Thank you very much Mr. President @realDonaldTrump that means the world to me! ???? #KAG #MAGA

— Tito Ortiz (@titoortiz) December 8, 2019
– In the main event of UFC on ESPN 7, Alistair Overeem (who defeated Brock Lesnar at UFC 141 in 2011) lost to Jairzinho Rozenstruik with just 4 seconds remaining in the fight.
Overeem got hit with a punch during the final seconds of the fight and fell down. Overeem got right back up, but the referee saw his lip got cut badly and called off the fight.
You can watch it below:
UFC President Dana White posted a very graphic image of the cut and you can check it out by tapping here.
WATCH: Hot New Video Of Maryse's Juggs From Miz & Mrs: