• On This Day In Pro Wrestling History (September 13, 1998) – WCW Fall Brawl 1998
On this day in Pro Wrestling history on September 13, 1998, Ted Turner's World Championship Wrestling aired 'WCW Fall Brawl 1998' LIVE on PPV from the 'Lawrence Joel Veterans Memorial Coliseum' in Winston-Salem, North Carolina.
The War Games Main Event had 3 teams instead of the usual 2, as it featured Team nWo Hollywood versus Team nWo Wolfpac versus Team WCW.
Davey Boy Smith hurt his back in the opening match, when he took a bump on a trap door, that was there for The Ultimate Warrior's secret entrance in the main event, but everyone forgot to tell the Davey Boy & the other wrestlers in that match about the situation.
This injury led to a severe pain killer addiction, which eventually played a role in his death in 2002.
The results are here:
– The British Bulldog & Jim Neidhart defeated The Dancing Fools
– WCW World Television Championship: Chris Jericho (c) defeated "Goldberg" (impersonator)
– Ernest Miller defeated Norman Smiley
– Rick Steiner wrestled Scott Steiner to a no-contest
– WCW Cruiserweight Championship: Juventud Guerrera (c) defeated Silver King
– Raven's Rules: Saturn defeated Raven
– Dean Malenko defeated Curt Hennig by DQ
– Konnan defeated Scott Hall
– WarGames: Diamond Dallas Page, Roddy Piper & The Warrior defeated Hollywood Hogan, Bret Hart & Stevie Ray, and Kevin Nash, Sting & Lex Luger
• Aleister Black Shuts Down A Fake Report About Him Being "Too Satanic" For WWE TV
There was a report making rounds on Social Media which stated that the reason Aleister Black hasn't been on WWE TV as of late is because WWE officials believe his character is "too satanic" for mainstream TV.
This led to Black shutting down the report by saying it's 100% fake.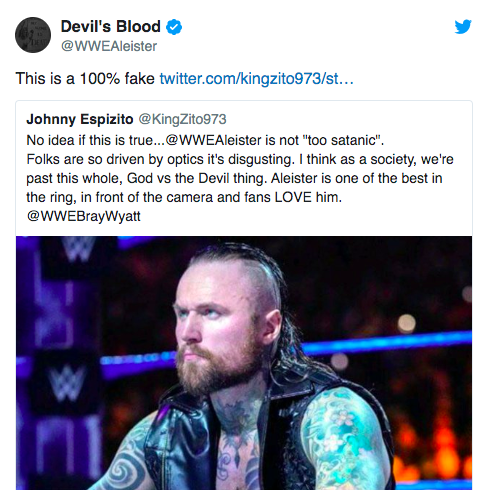 Request: Please download our official "WrestleFeed" app for the latest WWE/AEW News & Clash Of Champions 2019 updates!
Below are the download links for our Android/iOS app:
Android – http://bit.ly/2IVQ3yU
iOS – https://apple.co/2Oido0R