• OLD SCHOOL HISTORY (February 16, 1987) – WWF Prime Time Wrestling
On this day in 1987, the World Wrestling Federation aired an episode of their weekly TV show 'WWF Prime Time Wrestling'.
It featured pre-taped matches, interviews & storyline segments on the road to the 'WWF WrestleMania III' PPV.
The card can be found right here:
– King Kong Bundy vs. Pete Doherty
– Dino Bravo vs. SD Jones
– Interview w/ Dr. Of Style Slick
– Pipers Pit: Hulk Hogan Is His Guest
– Tito Santana vs. A Jobber (Danny Davis Gets Suspended For Life)
– Interview w/ Danny Davis And Jimmy Hart
– Koko B. Ware vs. The Red Demon
– Tama vs. Frenchy Martin
– Haku vs. Terry Gibbs
– Ricky Steamboat vs. Sika
– Can-Am Connection vs. Tiger Chung Lee & The Gladiator
– Hercules vs. Billy Jack Haynes
• "Amy Is Simply Realizing That Her Ego F***ed Up Her Life" – Corey Graves On His Wife
As we noted earlier, WWE commentator Corey Graves' wife, Amy Polinsky, has claimed on Instagram that her husband is sleeping with former SmackDown Women's Champion Carmella.
Below is what she posted on Instagram:
"This may be totally below me to do but I'm hurt. I'm sad. I've put 11 years into supporting a man to accomplish his dream only for him to punch me in the gut! I've been through suicide attempts, alcoholism, among so much more with him and stuck by his side. The kicker is finding out that he's been sleeping with one of my daughters role models all along. Carmella and Corey Graves I hope you guys are happy. I really do!"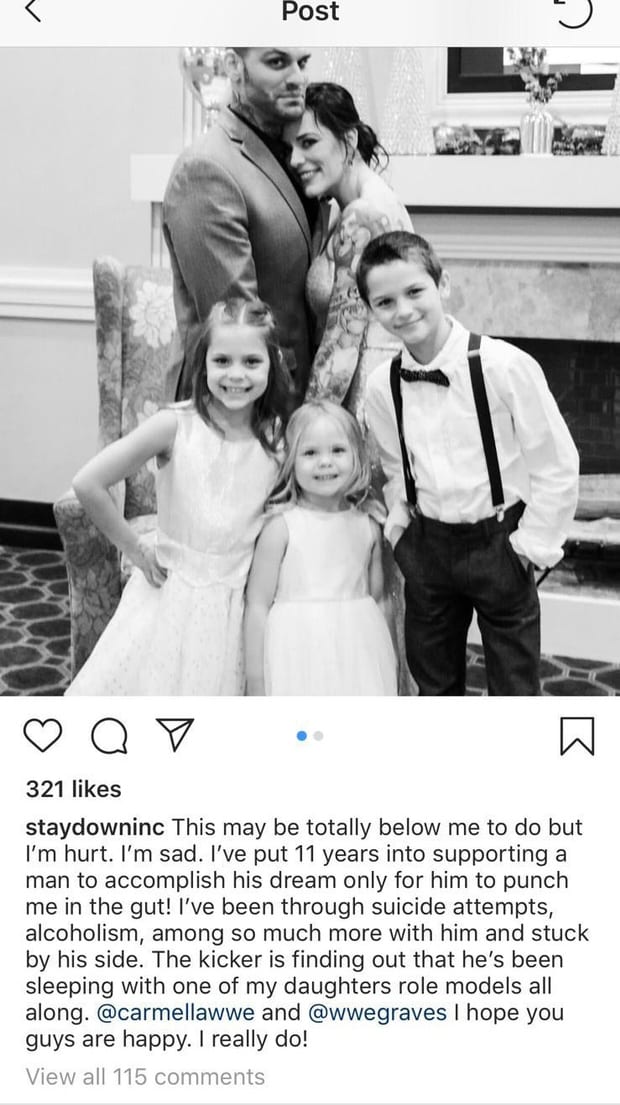 Amy also posted a text conversation with Graves where Graves wrote the following:
"I'm dead. I'm at home in my room and I have all of the food. I just kinda wanna disappear forever. Legit, I can't do any better than what I've got. I think this is it for me. I can't top it what I've got, so Why try?
I just wanna fade away. Give them whatever they need. I've come to terms recently, that I need to shut it all down. All of it. I'm going to sleep. Maybe I'll wake up. Maybe I won't. I don't wanna wake up anymore. Just make sure the kids know I loved them."
Amy went on to note in her Instagram stories that Graves told her the following:
"I suggest taking that post down, because WWE is gonna sue you. I just got a call."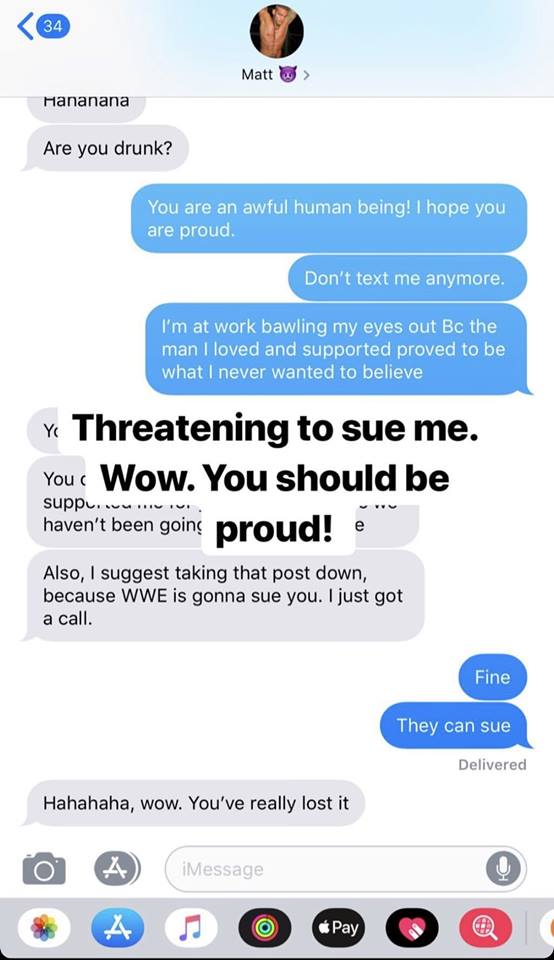 Amy has now posted a screenshot of another text conversation, where Corey is telling someone that Amy's ego f***ed up her life.
You can read the text conversation below: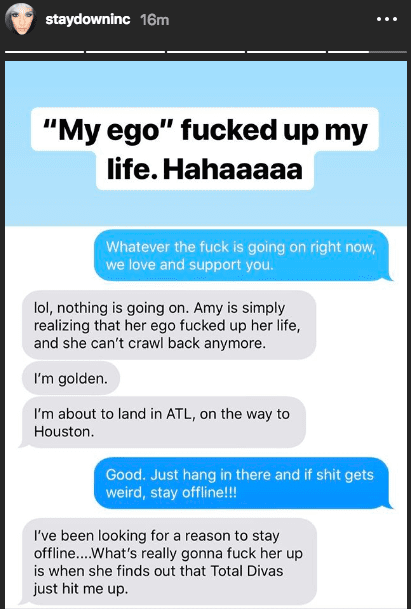 WATCH: Carmella Exposed With A Super Hot Wedgie (New Video):