• OLD SCHOOL VIDEO HISTORY (December 3, 2001) – WWF Monday Night RAW
On this day in 2001, the World Wrestling Federation aired another LIVE episode of their weekly TV show 'WWF RAW IS WAR'.
It was broadcasted from the Bradley Center in Milwaukee, Wisconsin and featured matches, interviews & segments, on the road to the 'WWF Vengeance 2001' PPV.
Here's the card:
1. Kane vs. Buh-Buh Ray Dudley
2. Albert vs. Test
3. The Hardy Boyz vs. Spike Dudley & Tajiri
4. Steve Austin vs. Chris Jericho
5. Rob Van Dam vs. Christian
6. William Regal vs. Bradshaw
7. The Rock & Trish Stratus vs. Kurt Angle & Vince McMahon
• Another Huge Sign Of All Elite Wrestling Being Backed By Billionaire Family
Cody Rhodes and The Young Bucks are expected to start their own promotion, All Elite Wrestling, if reports are to be believed and this promotion will be financially backed by the Khan Family (who own Jacksonville Jaguars).
A huge hint regarding this was dropped yesterday when Cody Rhodes (along with his wife Brandi Rhodes) were seen seated in the owner's box at yesterday's Jacksonville Jaguars football game.
Below is a photo: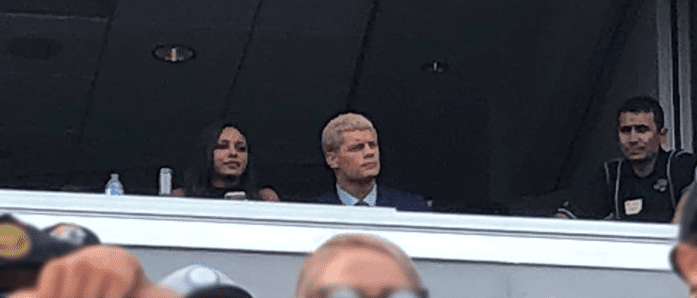 According to the Wrestling Observer, Cody Rhodes was asked about the rumored All Elite Wrestling promotion at a recent Meet & Greet event in Australia and he told the fan that they'll have to wait till January for the announcement and that the announcement "would be bigger than anyone expects."
On the other hand, WWE Hall of Famer Jim Ross addressed rumors of his involvement in All Elite Wrestling during a recent edition of the Jim Ross Report.
Below is what Good Ol' JR said:
"We are assuming one or two things in my opinion. It's either going to never happen because a TV deal could not be acquired or the TV deal is going to be finalized and it's going to be big… Feast or famine.
The trademark thing with the Khan Family obviously got everyone's sensor stirred up again. Two things you have to have to start a wrestling company: Television, Talent. In that order.
If they don't get TV, there is no company. I've been rumored to be in every role of this company, and I swear to God it's eye-rolling. At one point it's Chris Jericho and me, which I thought was really stupid. Me and Jericho are going to spend all of the money we've made over the years to get into the wrestling business? Are you crazy? Are you nuts?
Then it's we're not involved at all and it's these other guys who are the movers and shakers…There ain't nothing to move here, folks. There ain't nothing to shake.
I think activity, whether good, bad or indifferent, will escalate in the new year. TV networks are already in the decision-making mode because I know those talks have been ongoing. But I'm not in that loop. I'm not pitching to anybody. I don't have a job. I don't work for them… at this point in time.
It's either not going to happen because the best TV situation could not be earned, or it's going to be big.
If it happens I can't imagine the Khan Family is going to want to have a show that looks like a lesser quality-looking show than WWE".
WATCH: Samoa Joe Ends Tyson Kidd's Career With A MuscleBuster: