• Attitude Era Personality Says WWE Is Taking A Shot At "Black Lives Matter"
WWF Attitude Era writer Vince Russo appeared on Legion Of RAW podcast and talked about WWE's booking of The Hurt Business (MVP, Bobby Lashley, Shelton Benjamin, & Cedric Alexander).
Here's what Russo said:
"One of the biggest problems with RAW is, there is no sense of reality. So, if I'm writing RAW, The Hurt Business is coming together the same time 'Black Lives Matter' is coming together. And that's what it's about and that's what they are talking about and they are trying to get more and more blacks to join the cause.
And bro, I'll tell you right now, I would have done it in a positive way, because that would have been great PR for WWE. The black athletes are getting together, uniting, and they are trying to put positivity out there.
Bro, do you notice what they are doing? Every single week, they've got the black people beating up the black people. They did it to Titus. If you remember last week, they bullied the guy in catering and it just happened to be a black guy. I'm like so there are no white people back there? While Black Lives Matter is happening, they are doing black on black.
You cannot tell me they are not doing that on purpose. I mean you look at Titus and you look at the guy last week, and now they are in there against New Day. Outside of your arena, black people are uniting all over the world. You're pitting them against each other.
I know them and I know the system, and they are purposely doing that when this could have such a strong message and such a positive message. But what is it, it is black guys beating up other black guys, because you are taking a shot at Black Lives Matter? It's way too obvious for me!"
WATCH: Becky Lynch Shows Off Her Buns (Part 2):
You can download our official WrestleFeed mobile app to check out more Wrestling news & Divas content. Tap here to download.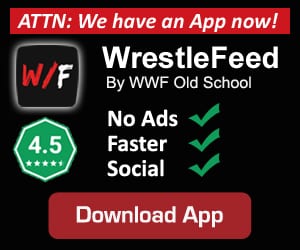 • Old School WCW Veteran Would Have Celebrated His Birthday
Today would have been the 47th birthday of Old School WCW Veteran Chase Tatum (Real name: William Chase Tatum).
The former pro-bodybuilder wrestled for Ted Turner's World Championship Wrestling in 1998 & 1999, before he retired from the sport of professional wrestling due to severe back problems.
In 1999, he was a member of Master P's No Limit Soldiers during their feud with Curt Hennig's West Texas Rednecks.
Chase Tatum passed away in 2008 from an accidental drug overdose.
HAPPY BIRTHDAY & † REST IN PEACE
November 3, 1973 – March 23, 2008