• Attitude Era Wrestler Played The Role Of The "Terrorist" Who Choked The Undertaker
During a recent appearance on Tommy Dreamer's 'House Of Hardcore' podcast, Ruthless Aggression Era veteran Shawn Daivari revealed the identity of the (kayfabe) Taliban Terrorists, who attacked The Undertaker on behalf of Muhammad Hassan in 2005 on an episode of SmackDown on the road to The Great American Bash PPV.
The problem with that incident was that the SmackDown episode was taped on Tuesday and aired on Thursday evening, but in between a legitimate Islamist Terror-Attack happened in London, UK on Thursday morning, which is why UPN insisted that WWE should cancel the Muhammed Hassan character, as they didn't want to have him on their channel anymore, because of the controversy.
Here's what Daivari, who also managed The Great Khali & Kurt Angle in the past, had to say about UPN canceling Hassan because of the incident:
"It was a network note that they're allowed to give any TV show.
If HBO tells The Sopranos, hey you have to kill Tony Soprano on episode two, you have to do it.
And that a network note from UPN was, 'Muhammad Hassan is not a character on that show or Muhammad and Daivari, we're not having them on our program'.
And that's why it wasn't even a discussion or like a 'move them here, move them there' thing.
It was just, we went to Vince's office, he said it's done, we can't do it anymore.
Here's a good insider baseball thing for you. One of the Taliban guys, the only one that was allowed to choke Undertaker was Val Venis.
The other ones were big developmental guys and they're like, 'do we want a green developmental guy to wrap piano wire around our top guy's neck?'
So they brought in Val Venis, just for that day. Poor guy, he was planning to go home Monday night.
'Hey, can you come to SmackDown? We need you to murder The Undertaker.'
So then the whole gimmick happened and then they felt, whoever wrote the original AP article, you know AP articles go out everywhere, said it was in horrible taste that the 7/7 London bombings happened that morning and WWE would do a terrorist angle that evening on the show without doing the due diligence to realize, and I agree with them, it is in terrible taste, but no one did the due diligence of like, RAW is live, SmackDown is taped 24 hours after it, and that episode was in the can for 48 hours before the bombings happened.
But it's one of those things where once it's out there, it's out there.
That's what happened."
WATCH: Revealing Videos Of Former ECW/WWE Diva Dawn Marie (Part 1):
You can download our official WrestleFeed mobile app to check out more Wrestling news & Divas content. Tap here to download.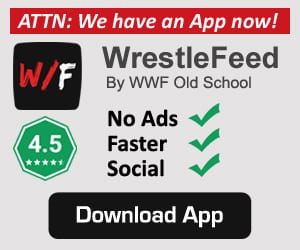 • Old School Wrestling Legend Celebrates His Birthday
Old School WCW Legend "DDP" Diamond Dallas Page (Real name: Page Joseph Falkinburg) celebrates his 65th birthday today.
Diamond Dallas Page, who was driving his pink caddilac to the ring during Rythm & Blues' entrance at WWF WrestleMania 6, originally started as a manager in the AWA, PWF (Florida) and by 1991 also in Ted Turner's World Championship Wrestling, where he managed "The Fabulous Freebirds" Michael Hayes & Jimmy Garvin.
But Dallas eventually ended up going to WCW's very own "Power Plant" wrestling school and learned the ropes to become a professional wrestler.
DDP turned into a key figure for WCW in their rivalry against the New World Order, and their TV ratings battle against the World Wrestling Federation during the Monday Night War, and even went on to capture the WCW World Heavyweight Championship on 3 occasions.
In 2001, when Vince McMahon bought WCW, Page was among the stars that got signed to a WWF contract right away.
In 2017, the night before WrestleMania 33, he got inducted into the WWE Hall of Fame by his old friend Eric Bischoff.
HAPPY BIRTHDAY DDP!