• Kenny Omega Not Appearing At Royal Rumble 2018 Or Royal Rumble 2019
IWGP United States Heavyweight Champion Kenny Omega has signed a new one year contract with NJPW. His current contract was set to expire on January 31, 2018. Now, his new contract will expire on January 31, 2019.
Not only will Omega not be able to appear in the Royal Rumble 2018 match, but he also won't be able to appear in the Royal Rumble 2019 match with this new contract.
• Big Royal Rumble 2018 Title Match Outcome Spoiled
As we all know, "The Phenomenal" AJ Styles will defend the WWE Championship in a 2 on 1 Handicap match against Kevin Owens & Sami Zayn at Royal Rumble 2018 PPV.
While the FastLane 2018 WWE Title match plans already leaked before this Royal Rumble 2018 announcement, there was still speculation going on that local advertising can be wrong sometimes.
However, that isn't the case. The Nationwide Arena arena has released a promotional video for FastLane 2018 and confirmed that the WWE Championship will be defended in a Fatal 5 Way match featuring AJ Styles, Randy Orton, Shinsuke Nakamura, Kevin Owens & Sami Zayn, with Styles heading into the match as the WWE Champion.
Below is the match graphic: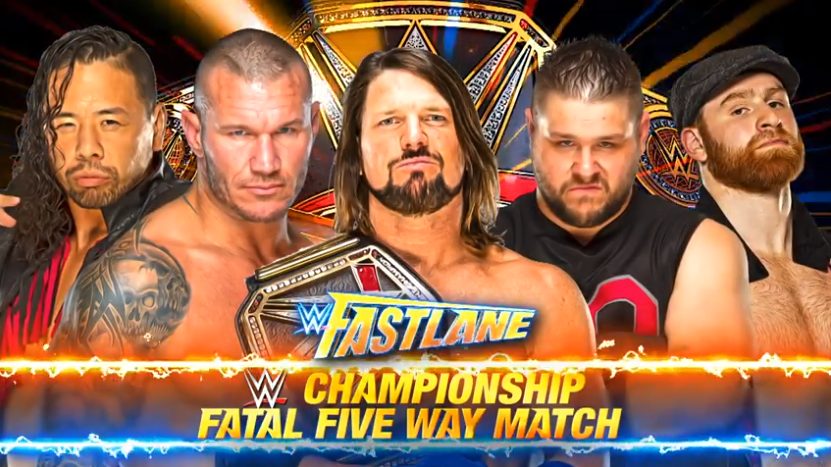 Below is the video:
This confirms that Styles will walk out of Royal Rumble 2018 still the WWE Champion.