– Former WWE Star On Vince McMahon Not Understanding His Entrance
During a recent appearance on The Art of Wrestling podcast, former WWE Superstar Ryback talked about Vince McMahon not understanding his entrance. Below is what he said:
"One day Billy Kidman came up to me in 'Gorilla,' and he goes, 'Vince was on the headset and he wants you to explain your entrance.' I was just to the ring to bulls*** with some of the guys, and I asked him what he meant? Kidman responded that he doesn't understand my entrance.
Like, why you do the arm thing, and then all the arms, and then all your legs. I said to him that I am collecting all of the energy in the arena, feeding off the energy off the crowd. I am collecting the left side, collecting the right side and then I am collecting everything and then eject it into my quads because I go I know Vince will understand that.
This is really the discussion and Kidman can hear me explain it over the headset while I explain all of this. I inject their energy into me and then I shut down, and then I wake up, it's feeding time! I had to explain that to him, and then Kidman just goes, 'That is just so f***ng weird.'"
Ryback also talked about how winning a conversation against Vince eventually turned into a loss:
"They wanted me to change my attire and wear trunks. I responded back that it wasn't happening, and that he can talk to me if he wants to, but I'm wearing my singlet. I'm in control, I'm not wearing trunks. So, afterwards I started not to trust anything that was going on.
Finally, everyone was pissed off so I went to the back and talked to Vince McMahon and said that we needed to talk. I went to his office, we talked, and had a conversation about the singlet. I felt that I won the conversation, but not really since he controls everything. Eventually I went to trunks because I knew I was leaving and it became a mindgame at that point.
John Cena approached me later and said to me, 'Congratulations. You won that conversation.' Ultimately, did I really win? I didn't win on TV after that."
– Big Update On The Survivor Series 2017 Main Event
As we noted before, there were rumors that 16 time WWE World Heavyweight Champion John Cena is going to become the special guest referee for the "Universal Champion vs. WWE Champion" main event match at Survivor Series 2017 between "The Beast Incarnate" Brock Lesnar & "The Modern Day Maharaja" Jinder Mahal.
Well, it looks like that'll indeed be the case. Survivor Series 2017 posted has been leaked and it shows John Cena as the special guest referee for that match.
You can check the poster below: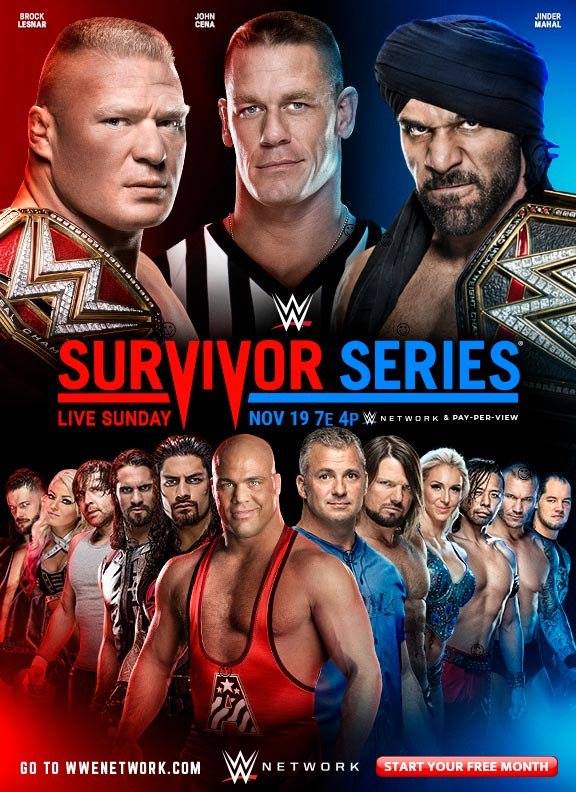 Below is the match-card for Survivor Series 2017 as of now:
Universal Champion Brock Lesnar vs. WWE Champion Jinder Mahal
Team Raw (Kurt Angle, Braun Strowman, TBD, TBD, TBD) vs. Team SmackDown Live (Shane McMahon, Randy Orton, Bobby Roode, Shinsuke Nakamura, TBD)
Intercontinental Champion The Miz vs. United States Champion Baron Corbin
Raw Women's Champion Alexa Bliss vs. SmackDown Women's Champion Natalya
Raw Tag Team Champions Seth Rollins & Dean Ambrose vs. SmackDown Tag Team Champions The Usos
Team Raw (Alicia Fox, Nia Jax, TBD, TBD, TBD) vs. Team SmackDown Live (Becky Lynch, Charlotte Flair, Naomi, Tamina, and Ms. Money In The Bank Carmella)
WWE Cruiserweight Championship Match: Enzo Amore (c) vs. Kalisto