• "BLEH!" – Vince McMahon To WWE Hall Of Famer When He Joined TNA
On this week's AEW Unrestricted, Sting talked about the time he told Vince McMahon he was going to TNA instead of signing with WWE.
Below is what he said:
"I was called, it's funny, I was called by Jerry Jarrett's son Jeff Jarrett, you know. The guy who gave me my break originally, Jerry Jarrett, his son Jeff all those years later struck some kind of a deal with Dixie Carter.
He called and said, 'hey would you want to come and do a show.' I did one, and then, 'do you wanna do another one?' — 'Alight.' — Then it was like, 'could we maybe get you to sign a deal and do something with us?' — I don't know…it took some twisting of my arm at the time to do it, but I decided I was gonna do it.
Vince [McMahon] was in the picture once again during that time. I'll never forget I'm talking to him on the phone. I go, 'Vince, I'm gonna go to TNA.' He said 'the thought of you and the legacy that you leave behind and you going to TNA is just BLEH!' I swear, he literally said, 'BLEH!'
Then I ended up working for [WWE] a few years later."
WATCH: Revealing Video Of Brie Bella's Top Being Taken Off:
🔥
You can download our official WrestleFeed mobile app to check out more Wrestling news & Divas content. Tap here to download.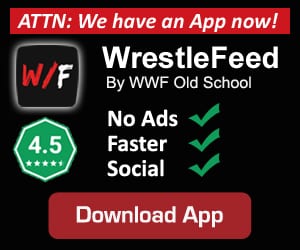 • Old School WCW Veteran Celebrates His Birthday
Old School WCW Veteran "Wildcat" Chris Harris celebrates his 47th birthday today.
Harris was used on weekly C-Shows like WCW Worldwide & WCW Saturday Night during his 2000-2001 WCW run, but was not among the wrestlers that were signed to a WWF deal when Vince McMahon bought the company in March 2001.
He also portrayed a Fake Sting at the Halloween Havoc 2000 PPV.
Together with fellow WCW Veteran James Storm, Chris was placed in a Tag Team called America's Most Wanted by TNA Total Nonstop Action! in 2002.
They split as a team (storyline wise) in 2006, but Harris remained on TNA contract till he left in early 2008.
He was signed by the WWE right away and became known as 'Braden Walker' on the 'ECW on ScyFy' roster.
The character lasted for 1 month, before he was fired from his World Wrestling Entertainment contract.
HAPPY BIRTHDAY CHRIS HARRIS!