• Bobby Lashley On Who He Originally Wanted In The Hurt Business
On a recent episode of WWE's After The Bell podcast, WWE Champion Bobby Lashley talked about the Hurt Business, his history with MVP, who he wanted in the Hurt Business & more.
Currently, the stable is a part of the RAW roster and consists of Lashley, MVP, Shelton Benjamin & Cedric Alexander. Benjamin & Alexander are the current RAW Tag Team Champions.
Here's what Lashley had to say:
"Me and MVP have a lot of history together. We're like those brothers that fight all the time, we agree on a bunch of things and disagree on a bunch of things. The one thing that we do agree on is what we love to do, we love to be out there, we love to put on a show, we love to fight, we love everything about what we're doing right now. Having him by my side has been a cool experience.
When he first came back last year he had said, 'I just want to come back one time so that my son can see me on the big stage,' he was able to do the Royal Rumble. Then after that the wheels started turning and I approached him and said bro, let me tell you this idea, I wish I could pull it off but it's not me, but it's you. There's a mix between Suge Knight, Don King and then The Rock and the player, mix all those characters together, that's him.
Before I even came back, Apollo [Crews] hit me up and I didn't even know Apollo, he gave me a DM, he was like 'Hey man, I have a couple questions to ask you. Did you ever get frustrated when you were here?' I was like 'Listen bro, you're talking to a man who's not in [the WWE] and that wants to get in. You're in the greatest place you can be right now, and you're an amazing talent and that's something that can not be denied. Just stay there man, maybe it's not your time right now, eat catering and have a good time. Whenever you have an opportunity to get out there, do the best you can and you won't be denied because you're incredible.
It takes time sometimes. When I came back in I was like you can put me and have me beat Roman, go after Brock and do Mania and that or you can make me pay and suffer and pay some dues, I don't mind doing either. That's what I told him, don't mind it, man.
'Anytime you get an opportunity to get that chance to get in the ring and show what you have, just do it, then when you do it, they'll find a place for you. Then keep bugging them, tell them you'll do this, you want to do this, keep throwing things at them because maybe sooner or later something will stick. But, the greatest thing you have going for you is how talented you are and how much respect everyone has for you. That won't be denied, you're going to eventually be in a big position so stick in there, man.' That's what I told him.
When I got in and got an opportunity to work with him, I was like, Apollo is a cool dude, man. What I was telling him before, when we started The Hurt Business, we wanted Apollo first because I was like man Apollo, you need that man. You're too pretty, you're too nice, we like you too much. You got to be hated bro, you gotta have some grit. We tell Cedric, Cedric be as dirty as you can and Cedric is dirty. Apollo needs that too, man."
Also Read: Rusev Reacts To Bobby Lashley's WWE Championship Win
WATCH: Kelly Kelly Shows Off Her Exposed Buns:
You can download our official WrestleFeed mobile app to check out more Wrestling news & Divas content. Tap here to download.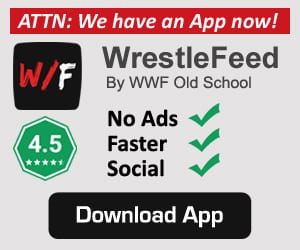 • Old School WCW Valet Celebrates Her Birthday
Old School WCW Valet Major Gunns (Real name: Tylene Buck) celebrates her 49th birthday today.
Apart from her career as an adult movie star, Tylene is remembered for her World Championship Wrestling days, where Tylene Buck started with the "nWo 2000" faction in late 1999 as one of the 'nWo girls', before ending up as the valet of the "Misfits In Action" faction, and she eventually – after turning on the M.I.A. – joined Lance Storm's "Team Canada" stable.
Tylene was released by WCW in February 2001, one month before Vince McMahon bought the company.
HAPPY BIRTHDAY MAJOR GUNNS!