• ON THIS DAY IN WWF HISTORY (March 28, 1987) – WWF Superstars of Wrestling
On this day in 1987, the World Wrestling Federation aired an episode of their weekly TV show 'WWF Superstars of Wrestling'.
This episode was pre-taped at the Hara Arena in Dayton, Ohio and featured matches & storyline segments on the road to the 'WWF WrestleMania III' PPV.
Here is the card:
1. Can-Am Connection vs. Steve Lombardi & Johnny K-9
2. Butch Reed vs. Jim Powers
3. The Hart Foundation vs. Joe Mirto & Rick Hunter
4. Jake Roberts vs. Moondog Spot
5. Piper's Pit
6. Harley Race vs. Jerry Allen
• Braun Strowman Regrets Making Recent Comments
The coronavirus pandemic is hurting indy wrestlers as all indy shows have been shut down.
This has resulted in some indy wrestlers not having any job to pay their bills.
AEW wrestler Evil Uno made a post asking fans to help those indy wrestlers in need financially, and this didn't sit well with WWE SmackDown Superstar Braun Strowman.
Strowman commented the following:
"Here we go with more of the somebody pay for my bills stuff. If you can't afford to pay your bills maybe you should change professions. That's why I quit strongman.
I loved it, but I couldn't afford to live so instead of making a go fund me or a Patreon wanting someone else to take care of me I went out and worked harder than I ever have in my life to get to where I am. What happened to being accountable for your own actions????!!!
And for anyone that goes that's easy for you to say you're a WWE Superstar just FYI 7 years ago I moved to Florida with everything I owned in a Kio Soul with $150 to my name when I started this!!!"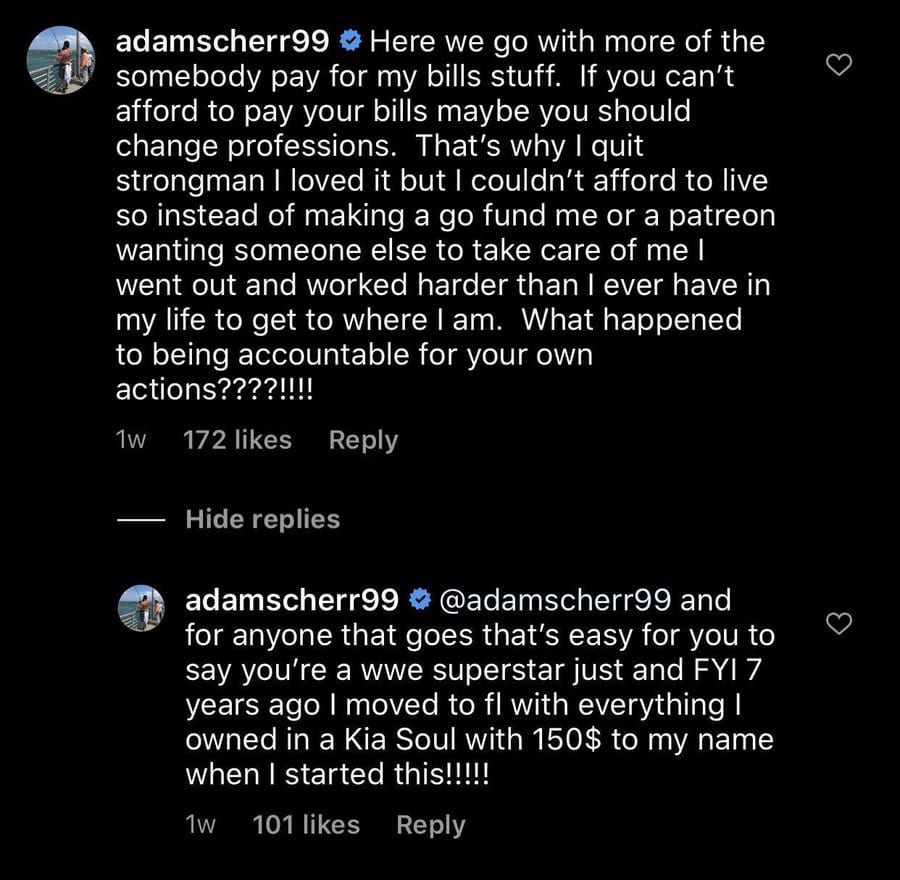 Strowman, who was last seen on WWE programming at Elimination Chamber 2020 where he lost the Intercontinental Championship, then revealed that he currently isn't getting paid by WWE:
I am and it sucks but I'm still working with charity's to help get funds and supplies to people that can't physically can't go out and do it.

— Braun Strowman (@BraunStrowman) March 20, 2020
I get paid when I work. Private contractor. So nothing is coming in at the moment

— Braun Strowman (@BraunStrowman) March 20, 2020
Nope

— Braun Strowman (@BraunStrowman) March 20, 2020
Dave Meltzer noted on Wrestling Observer Radio that Strowman upset a lot of people in WWE with his comments and now he regrets it:
"A lot of people were upset, including in the company because so many of those people came through [indies], and he didn't. He is [apologetic].
It's funny when I wrote about it, people were going like, why aren't you going harder on him because if you yell at him too much it's going to dig in and get worse, but if you go, look, if you are a friend of his, just explain it to him and he's got friends, and from what I understand, they did and he sort of got it. He didn't really get it at first, but he got it and he wished he didn't write it and all that.
So it's not like other people who dig their feet in and make it worse, he was not that. So good for him on that. But, people don't know that, I know that but most people don't know that."
WATCH: Debra Stripped On WWF RAW Is WAR: