• On This Day In Pro Wrestling History (March 27, 1988) – WrestleMania IV Ran Against The First Ever Clash Of The Champions
On this day in Pro Wrestling history on March 27, 1988, WrestleMania IV ran against the first ever Clash of the Champions.
The 4th annual WrestleMania event featured a fourteen man single elimination tournament with the winner becoming the undisputed WWF World Heavyweight Champion.
The final match saw "The Macho Man" Randy Savage (with Hulk Hogan & Miss Elizabeth in his corner) taking on "The Million Dollar Man" Ted Dibiase (with André The Giant & Virgil in his corner).
On the other hand, Ric Flair and Sting fought to a time limit draw for the NWA World Heavyweight Championship.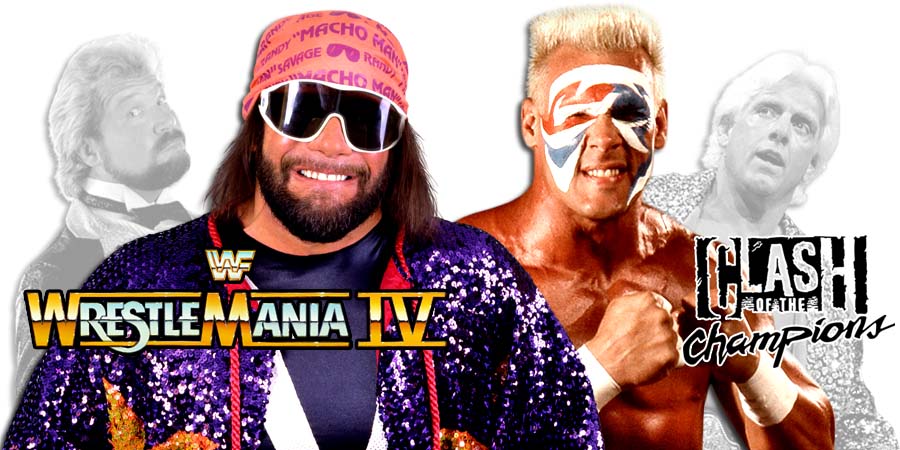 With Vince McMahon hurting Jim Crockett Promotions on purpose by telling the PPV providers that if they want to offer WWF WrestleMania 4, they would not be allowed to offer NWA Starrcade 1987, which ran head to head against the first ever Survivor Series on PPV.
In January when Jim Crockett Promotions had a PPV called NWA Bunkhouse Stampede and again Vince would do something to hurt them, by putting the first ever Royal Rumble for free on the USA Network at the same time, hoping to steal away the NWA Fans.
But on March 27, 1988 it was time for the NWA (JCP) to strike back when they ran their first ever Clash of the Champions for free on TBS directly against the World Wrestling Federation's WrestleMania IV PPV.
The Clash got a 5.6 TV rating, while WrestleMania drew a 6.5 buyrate.
Here are the WrestleMania IV PPV results:
Bad News Brown won a Battle Royal
First round
Ted DiBiase defeated Jim Duggan
First round
Don Muraco defeated Dino Bravo via DQ
First round
Greg Valentine defeated Ricky Steamboat
First round
Randy Savage defeated Butch Reed
First round
One Man Gang defeated Bam Bam Bigelow via countout
First round
Jake Roberts wrestled Rick Rude to a time-limit draw
The Ultimate Warrior defeated Hercules
Quarter-final
André the Giant wrestled Hulk Hogan to a double-DQ
Quarter-final
Ted DiBiase defeated Don Muraco
Quarter-final
Randy Savage defeated Greg Valentine
WWF Intercontinental Championship
Brutus Beefcake defeated The Honky Tonk Man (c) via DQ
The Islanders & Bobby Heenan defeated The British Bulldogs & Koko B. Ware
Semi-final
Randy Savage defeated One Man Gang via DQ
WWF Tag Team Championship
Demolition defeated Strike Force (c)
Tournament final – Vacant WWF World Heavyweight Championship
Randy Savage defeated Ted DiBiase
• Bray Wyatt's Name Changing To "WOKEN Wyatt"? More On A Possible Character Change
At a recent WWE Live Event, WOKEN Matt Hardy told Bray Wyatt that he has been deleted and a character change is coming for him. Hardy called him "WOKEN Wyatt" and said that he'll soon realize that he's not his enemy.
Wyatt & Hardy hugged then, but Wyatt then attacked him and Hardy then turned the table and ended the segment by nailing a Twist of Fate.
You can watch it below:
Word going on is that Wyatt will slowly show character changes, similar to how Jeff Hardy turned into Brother Nero in Impact Wrestling.