In what turns out to be a shocking news, "The Beast Incarnate" Brock Lesnar, who is currently signed to a WWE deal, will be making his return to the world of MMA at next month's UFC 200.
The UFC confirmed Brock's return at tonight's UFC 199 PPV. His opponent hasn't been decided yet. Lesnar last competed in the Octagon at UFC 141 (where he lost to Alistair Overeem). Lesnar's MMA record is 5-3.
Below is what ESPN tweeted:
Brock Lesnar is back. He'll return to the Octagon at UFC 200, opponent to be determined. pic.twitter.com/KsXvFpXjxl

— ESPN (@espn) June 5, 2016
Below is what the UFC 200 card looks like: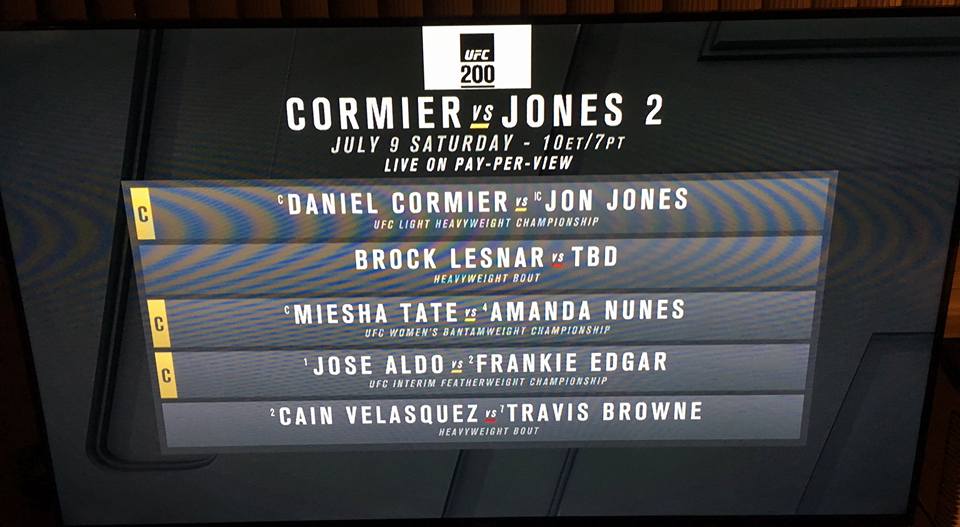 It is being reported that Brock's WWE contract allows him to fight in UFC before this year's WrestleMania, but he will be able to do it now as well.
Below is what WWE tweeted:
.@BrockLesnar to compete at #UFC200 prior to return at major @WWE event. https://t.co/PiPwNzYhFM pic.twitter.com/LlZNBVRWME

— WWE (@WWE) June 5, 2016
For those wondering if Lesnar is leaving WWE, the following statement from WWE might help:
Brock Lesnar remains under contract to WWE, however, he has been granted a one-off opportunity to compete at UFC 200.  Following this milestone event on July 9, Brock will return to WWE for SummerSlam on Sunday, August 21, live on WWE Network.
Brock Lesnar headlined UFC's most bought PPV of all time, UFC 100 (1.6 Million buyrate).
Are you happy Brock is returning to UFC? Vote below!
[polldaddy poll=9437506] [tps_footer]


[/tps_footer]