Below are the top Pro-Wrestling news stories of the day:
• BREAKING NEWS: Charlotte Flair Ends Her Relationship With Andrade El Idolo
Current SmackDown Women's Champion Charlotte Flair and AEW wrestler Andrade El Idolo were engaged to be married, but they have broken up.
BodySlam has confirmed their break-up. They reported the following:
"After speaking with multiple sources I can confirm that the two are no longer together. Sources indicated that the break-up did not appear to be mutual and that it was Charlotte who ended the relationship.
I was not given any details as to why the relationship came to an end, only that the two are officially done as of a couple weeks ago."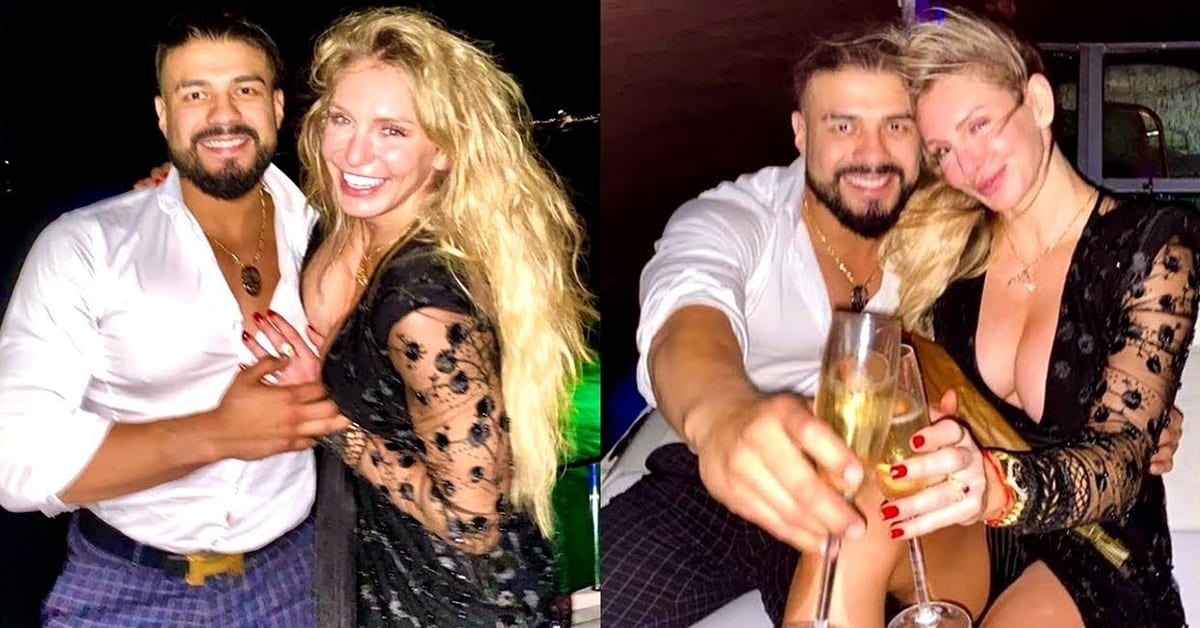 Andrade recently stopped following Charlotte on Instagram, which began rumors of their break-up. The rumors turned out to be true.
WATCH: Charlotte Flair Grabs Bayley's Buns:
🔥
• Brock Lesnar's Next Match Revealed On Tonight's SmackDown
Tonight's SmackDown kicked off with the return of Brock Lesnar. Brock said he's back to win the Universal Championship.
Sami Zayn interrupted Lesnar. Sami said he and Brock have a lot in common, including being Canadian Alpha males.
Brock said he has no idea who Sami is and thinks he's a fan. Sami said he's the number #1 Contender for the Universal Title, as he won a Battle Royal last week.
"Pardon my ignorance, I'm sorry. … You're a fan?"@BrockLesnar doesn't seem very familiar with @SamiZayn's body of work. 😂#SmackDown pic.twitter.com/8NlsAuN5T0

— WWE (@WWE) December 4, 2021
Sami sayid he will face Roman Reigns for the Universal Title at the WWE Day 1 PPV, and will give Brock a title shot after he defeats The Tribal Chief.
Brock said the WWE Officials are playing Sami and that he should get his Title match tonight. Sami said he's not prepared, but Brock talked him into it.
.@BrockLesnar can be VERY persuasive… 😳 #SmackDown @SamiZayn pic.twitter.com/SzudD123Az

— WWE (@WWE) December 4, 2021
Sami & Brock went to talk to Sonya Deville backstage, and Roman Reigns vs. Sami Zayn for the Universal Championship has been made official for tonight's SmackDown.
The winner of this match will defend the Universal Championship against Brock Lesnar at the Day 1 pay-per-view on January 1, 2022.
It's ON!@SamiZayn challenges @WWERomanReigns for the #UniversalTitle TONIGHT on #SmackDown, and @BrockLesnar will challenge the winner at WWE Day 1! @SonyaDevilleWWE @HeymanHustle pic.twitter.com/ur0JnsADkX

— WWE (@WWE) December 4, 2021
WATCH: Lana Shows Off Her Buns In A Hot Dance Video:
• "It is truly unfortunate" – Corey Graves On Big E Playing Second Fiddle To Roman Reigns
During the latest episode of WWE's After The Bell podcast, WWE Commentator Corey Graves talked about the upcoming WWE Championship match between Big E, Seth Rollins & Kevin Owens on January 1, 2022 at the WWE Day 1 pay-per-view.
While discussing it, Corey said it is unfortunate that Big E is the #2 full-time guy in the company right now, behind Universal Champion Roman Reigns.
Here's what he said:
"This Triple Threat at Day 1 is also a huge opportunity for Big E to really become the focus. I do believe that it is truly unfortunate as the WWE Champion Big E is always going to be forced to play second fiddle to Roman Reigns.
This is implied for no reason other than Roman Reigns is functioning at such a level that our business has not been able to see in a long time. Roman is that guy who is incredible, putting on bangers after bangers, compelling promos.
You have got Paul Heyman, The Bloodline, everything involved in the Universal Championship picture right now. Including Brock Lesnar. It is just next level."
WATCH: Extra Close Up Footage Of Zelina Vega (Malakai Black's Wife) In A Revealing Costume:
• "Are we really going to trust the championship with this guy?" – Triple H On WWE Legend
During a recent appearance on The Ariel Helwani Show, former WWE writer Freddie Prinze Jr revealed that Triple H wasn't in favor of Jeff Hardy winning the WWE Championship in 2008 because he thought Hardy wasn't trustworthy.
Here's what Freddie said:
"Hunter did bring it up, and everybody else was cool with it. Nobody had said anything, and I am sitting in there getting nervous. And Triple H says, 'Are we really going to trust the championship with this guy?' That's when I knew that was a sniper bullet, man.
Jeff wasn't trustworthy as champ. It was a feel-good moment for fans, but wasn't a sustainable one. Hunter is about sustainable championship runs because that's bankable, and reliable money for the company.
His philosophy was sound then, and it's still sound now, and I just know I pushed hard on that one because I thought it was worth it."
Jeff Hardy is a 3-time World Champion in WWE. He won the WWE Championship once and the World Heavyweight Championship twice.
WATCH: Trish Stratus Seduces Stevie Richards:
• WWE Hall Of Famer Comments On Possibly Returning To AEW
During a recent appearance on the Wrestle Buddy Podcast, WWE Hall Of Famer Ricky Morton talked about The Rock 'n' Roll Express possibly returning to AEW one day, Tony Khan signing top WWE Stars & more.
Below are the highlights:
On possibly facing FTR in AEW:
"The doors are always open. I know on the independent circuit, Robert and I are fixing to wrestle FTR. I did a little thing on air where I slapped Tully Blanchard and remember they piledrived me. They did this, but they didn't take it nowhere else."
You can watch their segment with FTR in AEW below:
On being a fan of AEW:
"Any wrestling business that opens up, I love it. Because it's for the boys. The boys have more places to work. I'm here, I'm on the independent circuit. I'm fixing to fly to the very tip corner of Maine to wrestle this weekend. It's all-new guys there that I've never seen. When AEW first opened up, I thought it was the greatest thing in the world."
On AEW signing a lot of WWE's former top stars:
"I don't know if its the ego trip of Vince and Tony Khan, I really don't know, but then again I was watching AEW once again last week, and when I cut the TV on I thought I was watching WWE two years ago. But see, it's great.
It's good to have those guys because a lot of them teach younger guys, but if you want this business to grow, you have to build your own stars. I don't think the ratings went up that much from bringing in those guys."
On Marko Stunt getting signed by All Elite Wrestling:
"Fans like their new talents. Marko [Stunt]. Whoever expected him to get a break? The brother's what, two-foot nothing? To meet him and hear him say, 'I'm the happiest guy in the world for it,' because he was there to get that break. There's a thousand more guys out there like that, that they need to focus on a little bit more."
WATCH: Zelina Vega (Malakai Black's Wife) In Super Hot Revealing Costume:
• Triple H's 1st Interview Since Heart Procedure
WWE recently announced their Next In Line program. You can read the press release below:
"New Program to Provide Clear Pathway from Collegiate Athletics to WWE
STAMFORD, Conn., December 2, 2021 – WWE (NYSE: WWE) today announced the launch of a groundbreaking NIL (Name, Image & Likeness) program that will provide a clear pathway from collegiate athletics to WWE.
Following a historic new policy by the NCAA effective July 1, 2021, which ushered in the NIL era allowing college athletes the ability to monetize their name, image and likeness, WWE has constructed a comprehensive program to recruit and develop potential future Superstars. Dubbed "Next In Line™," the NIL program aims to enhance the talent development process through collaborative partnerships with college athletes from diverse athletic backgrounds.
"The WWE NIL program has the potential to be transformational to our business," said Paul Levesque, WWE Executive Vice President, Global Talent Strategy and Development. "By creating partnerships with elite athletes at all levels across a wide variety of college sports, we will dramatically expand our pool of talent and create a system that readies NCAA competitors for WWE once their collegiate careers come to a close."
All athlete partnerships will feature access to the state-of-the-art WWE Performance Center in Orlando, Fla., in addition to resources across the organization including brand building, media training, communications, live event promotion, creative writing and community relations. Upon completion of the NIL program, select athletes may earn an exclusive opportunity to be offered a WWE contract.
In September, WWE announced its first NIL deal with heavyweight freestyle wrestler Gable Steveson who captured a gold medal at the Tokyo Olympics. The agreement allowed Steveson to return to the University of Minnesota for his senior season where he is defending his NCAA National Championship while beginning his Superstar training with WWE.
WWE will unveil the first class of NIL partnerships in the coming weeks."
WWE Hall Of Famer Triple H was recently interviewed by Fast Company. This was his 1st interview after his heart procedure a few months ago.
The Game talked about this new system and had the following to say:
"We immediately saw it as an amazing recruiting tool for us because it allows us to show athletes a path to WWE, and engage with them in a way where they can learn more about it, we can learn more about them, all while working together, and finding out if it's a good fit before they're even finished college, and before they need to make any decisions about what they're going to do in that next stage of their life.
In my generation, and even more recently, you sort of had to know someone (to get in the wrestling business). We've put a lot of effort into recruiting athletes and finding athletes to let them know WWE is a potentially lucrative opportunity for them if they're interested and passionate about it.
The deals might range from the lower end, which would still help them make ends meet while at school. Of course, if you're bringing an Olympic Gold Medal to the table, it's a different conversation.
It opens us up to a whole world of athletes that we've never been able to connect with in this way. For us, the next generation of superstars will come out of this program."
Also Read: Triple H's Condition Was "Very, Very, Very Serious"
WATCH: Triple H Seen In Public For The 1st Time Since Heart Procedure (At The Construction Site Of WWE's New Headquarters):
• WCW Veteran Says Adam Cole Should Turn Babyface In AEW
Old School WCW Veteran Disco Inferno appeared on an episode of Konnan's 'Keepin It 100' podcast, where he stated that former NXT Champion Adam Cole should turn babyface in All Elite Wrestling and feud with Bryan Danielson (fka WWE Superstar Daniel Bryan), who recently turned Heel.
Here's what the former WCW World Tag Team Champion had to say:
"I believe Adam Cole would be a good babyface against the heel Bryan Danielson. That is a solid program. I do not think they have ever had a program, have they?"
Independent Wrestling Veteran Adam Cole eventually made it to WWE in August 2017 and he wrestled exclusively for their developmental brand NXT until his contract ran out in August 2021.
Cole the joined Tony Khan's All Elite Wrestling in September.
Cole & Bryan had a match on the WWE main roster in 2019, on the road to the Survivor Series 2019 PPV. Cole defeated Bryan in that match on SmackDown.
WATCH: Eva Marie & Maryse Having Fun In Revealing Outfits:
• Mick Foley Has Raised Over $22,000 To Help TNA Veteran
Old School WWF Legend Mick Foley took to Twitter to let everyone know that the recent Highspots fundraising event raised more than $22,000 to help TNA Veteran Jimmy Rave pay his medical bills, because he didn't have health insurance.
Here's what the former WWF Champion said:
"Hey everybody, it's The Hardcore Legend Mick Foley along with Michael, the Highspots impresario, and we're just so grateful to everyone who contributed to our auction and signing tonight. We raised over $22,000 to help Jimmy Rave out for his medical bills and living expenses.
My heart is really full. I'm just so happy right now and thank you to all of you, who helped make it come true. Thank you. Have a nice day!"
Thanking EVERYONE who participated in tonight's @Highspots signing and auction. We raised over $22,000 to help @TheJimmyRave with his medical bills – and showed what a difference the wrestling community can make!🙏🙏🙏 pic.twitter.com/5fb29IL2Uv

— Mick Foley (@RealMickFoley) November 29, 2021
Jimmy Rave wrestled for Total Nonstop Action! (TNA, now known as iMPACT Wrestling) from 2007 until 2009 and again in 2011.
Most fans probably remember him as one half of the Tag Team 'The Rock n Rave Infection' with fellow TNA Veteran Lance Hoyt, who is now known as AEW Superstar Lance Archer.