• WWF Veteran Says He's Known More For His "$ex With Daughter" Controversy Than His Wrestling Career
For those who don't know, the following post was made on WWF Veteran Marty Jannetty's Facebook page last year:
"If you love me as much as I love you, you will give your opinion,,just did DNA (2 weeks ago)..she's NOT my daughter..we both held out of sex because you don't do that..but now that we ain't???? From a guys side.. SHES F****N HOTT..but..she's been daughter.. I want to too, but can't get past that…"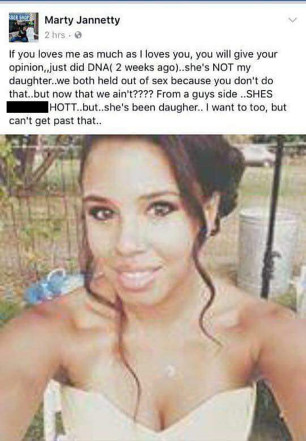 During a recent interview with The Sun, Jannetty addressed this controversy once again and below are the highlights:
On people asking him about the controversy all the time:
"I'm still getting bombarded with emails and messages about this and fans at live events ask me questions about it. In fact, every damn body seems to have their own podcast now and wants me to go on there to talk about that disgusting post. Of course I would never think anything like that – it's messed up. It's almost comical that I worked my a** off so hard to make my name in wrestling and through years and years of blood, sweat and tears, I did it."
On being known for the Barber Shop segment and this controversy:
"The barber shop window episode with Shawn is legendary. It happened over 25 years ago and yet people still rave about it. Yet one fake 'BS' story has risen right up there with that. It makes me mad because I wonder if in 25 years from now, will they still be saying 'that pervert wanted to f*** his daughter'?"
On losing his phone 6 weeks before this controversial post was made and thinking hackers did it:
"If I ever got my hands on them let's just say I'd put them in a sleeper hold for a very, very long time. I wish I could find who did it – but then again maybe it's a good thing I haven't."
On his daughter's reaction to that post:
"She just couldn't believe it when she read it and didn't know how to deal with it. Imagine reading that about yourself – in every website all over the world – it's not fair on her. It's also been tough for my girlfriend reading that stuff.
That was really hurtful – apart from a few people on my fan page – so many people just read that sick message and took it as truth. I kind of understand why they did believe it – in a way – because I always write crazy stories on Facebook – to shock people or make them laugh – but I'd never go that far.
And people just believe what they read and it's like with WWE – perceptions become reality. Some people I thought were friends sent me these nasty messages then they blocked me so I didn't even have a chance to respond. It makes me sad – these dumb people could have destroyed my life.
All the stuff I accomplished – all the stuff in wrestling and all the good things I did for kids like with the Make A Wish Foundation and now you Google me and that stupid story pops up all over. I spoke to my lawyer and there's nothing I can do about it. I just hope people will remember me for my wrestling and all the good things I've accomplished – not some stupid fake story."
• New Champion Crowned On RAW
The Superstar Shakeup edition of RAW kicks off with Kurt Angle coming out and getting interrupted by the United States Champion Jinder Mahal, who is now a member of Monday Night RAW.
Jinder brags about being better than any superstar on RAW and this leads to Angle booking an open challenge for the United States Championship and it gets answered by Jeff Hardy!
After good back and forth action, Hardy nailed a Twist of Fate and Swanton Bomb to pin Jinder and win the Title!
Talk about a SHAKE UP!!!

Congratulations to your NEW #USChampion, @JEFFHARDYBRAND!!!!!! #AndNew #RAW #SuperstarShakeup pic.twitter.com/TNALFWkyDd

— WWE (@WWE) April 17, 2018
ALSO: Check Out The Hottest Non-WWE Female Wrestler On The Planet – Click Here.