• Bret Hart Fires Back At Jake Roberts For Being Jealous Of Him & Shawn Michaels
On episode 26 of Confessions Of The Hitman, 2-time WWE Hall Of Famer Bret 'The Hitman' Hart responded to Jake 'The Snake' Roberts calling him and Shawn Michaels the worst WWF Champions of all time.
Below is what Bret said:
"We [Hart and Michaels] may not have liked each other that much, but we sure had some great matches together, and we really worked hard to perform together. Like, even the match – The Montreal Screwjob match – before the whole screwjob happened, is a 5 star match. We tore an incredible pace.
We we were going for 15 minutes before we even got into the ring, and then, we did about 10 minutes in the ring. But we had another 25 minutes of a match that was planned out. If it had ever happened, it could have been one of the greatest matches of all time, and we'd be talking about that more today than the actual Screwjob.
I take exception. Jake Roberts is one of those guys who a few months ago said something about – he made a stupid comment about the two worst champions there ever were were Bret Hart and Shawn Michaels. And he made some reference that we didn't draw, which is always – I don't know if that's a fair view. If you look at any of the WrestleManias – WrestleMania 12 – you can't tell me, if you look at the crowd, that I didn't draw. I mean, it was huge buyrates and it was a packed [arena].
Even Wembley [Stadium] with [The British] Bulldog was over 80,000 fans there. And to try to throw out, 'hey, you never drew?' I wrestled in front of 100,000 people in India for [WWF] in 1994. We drew, but maybe in the United States, you could argue that I didn't draw in the way that Hulk Hogan drew. But, I mean, who did? Who drew like Hulk Hogan did? It was a phenomenon in 1984 when WrestleMania had the whole sort of rebirth of [pro] wrestling happened, and the numbers that happened at that time were unprecedented.
I think it bothers me that someone like Jake, who never went to the gym – if he did go to the gym, he might do a set and then go smoke a cigarette outside. He was not a tough guy, was not a legit athlete, he was strictly a promo, and he was a great worker; a great pretend wrestler. But all I know is that when my time came and they picked me to be the champion, they chose me for whatever reasons. I'm very happy that they chose me. I think I was a good choice.
I certainly worked hard enough to get that opportunity. But Jake Roberts said something like we were too small and we never drew big numbers or anything like that, but I say in response to that, where was Jake Roberts? Like, why didn't [Roberts] take the torch? Why wasn't he there?
I don't know who was going to carry the torch if it wasn't me and Shawn Michaels. At least we were hard workers. I disagree completely that we were the two worst champions of all time. I think you would be hard pressed to find two better [pro wrestlers]; we were at the top of the pile. Shawn Michaels or me never had to take a backseat to Hulk Hogan, or Ultimate Warrior, or whoever Jake thinks are the real iconic [pro] wrestling champions.
If you look at [pro] wrestling today and how the athleticism is such a big part of it in the style of wrestling, that's not a throwback to Hulk Hogan. That's not a throwback to Jake Roberts. That's not a throwback to The Ultimate Warrior or any of those other guys, that's a throwback to Bret Hart and Shawn Michaels. [Roberts'] dead wrong about that.
For a guy that's clearly just jealous of me and Shawn and maybe the success we had, I've never ever said that Shawn is a lousy [pro] wrestler.
Even when I had whatever issues with Shawn, as an example, all I could say is that he is a total pro in the ring most of the time. Other than The Screwjob maybe, he was always a total pro. He was safe and one of the hardest workers. He was one of the most highly skilled professional wrestlers there ever was.
And you can sit there all day and throw stones at [pro] wrestlers, but Jake Roberts has no business ever throwing stones at me and Shawn."
WATCH: Natalya Exposes Her Huge Juggs:
You can download our official WrestleFeed mobile app to check out more Wrestling news & Divas content. Tap here to download.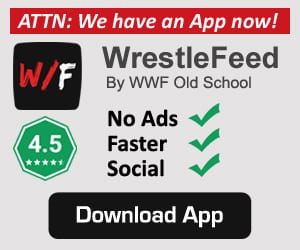 • Old School WWF Jobber Celebrates His Birthday
Old School World Wrestling Federation Jobber Chris Hamrick turns 54 today.
Chris did several televised jobs on WWF TV in the mid-90s, in which he developed a spot that is now referred to as the 'Hamrick Bump', where he misses his opponent and jumps outside between the top rope and the middle rope.
He later joined Paul Heyman's ECW Extreme Championship Wrestling promotion in 2000 and became a full-time member of their roster until the company closed its doors in January 2001.
HAPPY BIRTHDAY CHRIS HAMRICK!