• Chris Jericho Reacts To Fans Claiming He Recently Got "Ab Implants" (Photo)
Ever since he joined AEW, some fans have complained about Chris Jericho's physical look.
While he maintains a muscular Heavyweight look, he sometimes looks 'fat' in the middle of matches and especially in certain photos when he's breathing out.
However, he looked in great shape on this week's episode of AEW Dynamite, and you could even see his abs.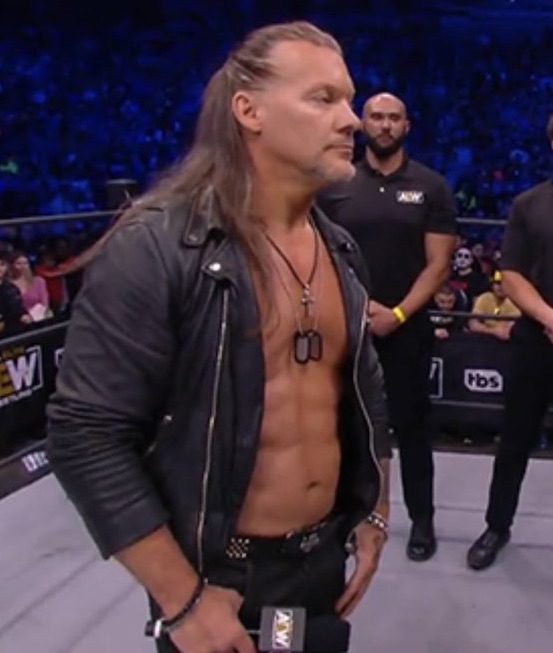 Now, some fans are claiming that Jericho got "ab implants" recently to enhance his physical image at the age of 51.
Jericho had the following to say about this claim:
"Hah that is the stupidest f**kin thing I've ever heard!! Keep reaching haters….."
Also Check Out: Triple H Was Mentioned During The Above Shown Chris Jericho Segment On This Week's AEW Dynamite
WATCH: Kelly Kelly Opens Her Top:
• On This Day In Pro Wrestling History (February 25, 1990) – WCW Wrestle War 1990
On this day in Pro Wrestling history on February 25, 1990, Ted Turner's World Championship Wrestling aired 'WCW Wrestle War 1990: Wild Thing' LIVE on PPV from the Greensboro Coliseum in Greensboro, North Carolina.
With both Sid Vicious & Dan Spivey injured, the last remaining member of The Skyscrapers "Mean" Mark Callous (who would become The Undertaker later that year) was teamed up with 'The Masked Skyscraper' in their Chicago Street Fight against The Road Warriors.
The Masked Skyscraper was portrayed by Mike Enos, the man who would become known as Blake Beverly of The Beverly Brothers in 1991.
Here are the results:
Buzz Sawyer & Kevin Sullivan defeated The Dynamic Dudes
Norman the Lunatic defeated Cactus Jack
The Rock 'n' Roll Express defeated The Midnight Express
Chicago Street Fight: The Road Warriors defeated Mark Callous & The Masked Skyscraper
NWA United States Tag Team Championship: Brian Pillman & Tom Zenk (c) defeated The Freebirds
NWA World Tag Team Championship: The Steiner Brothers (c) defeated Arn Anderson & Ole Anderson
NWA World Heavyweight Championship: Ric Flair (c) defeated Lex Luger by count-out