• Chris Jericho Says Brock Lesnar Used Homophobic Terms During Their Real-Life Confrontation At SummerSlam 2016
In the main event of SummerSlam 2016, Brock Lesnar defeated Randy Orton via TKO.
During the ending moments of the match, Lesnar delivered vicious elbow shots to Orton's head and busted him open the hard way (without blading). This resulted in the referee stopping the match and awarding the victory to The Beast via Technical Knockout.
Orton needed 10 staples to close the wound on his head.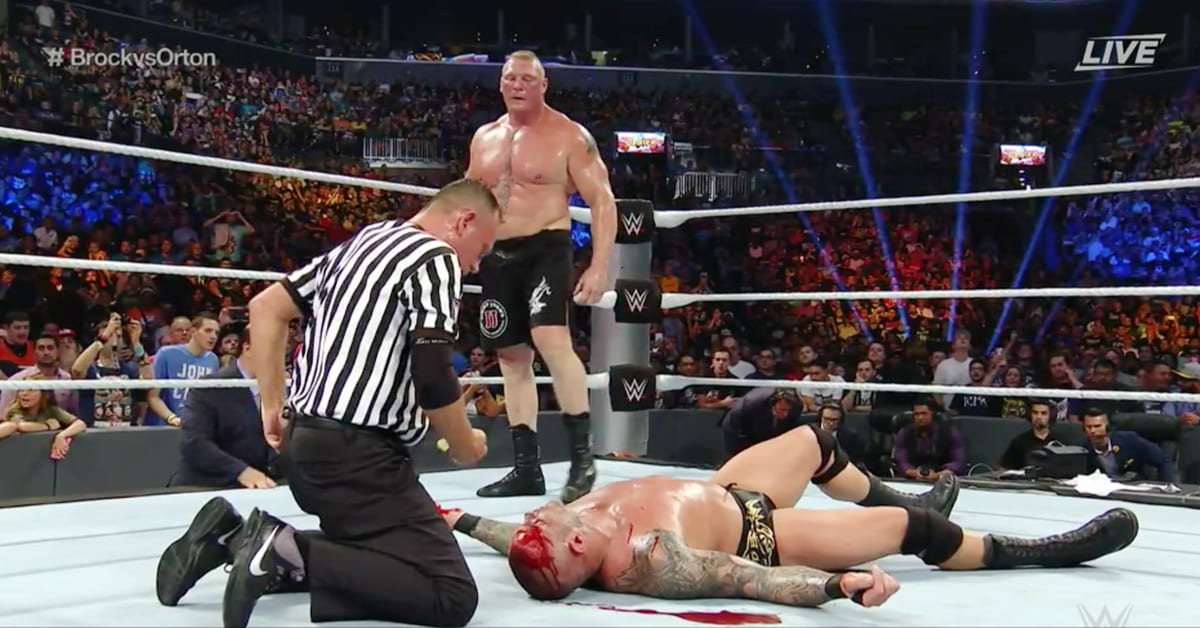 Chris Jericho wasn't happy with what he saw and confronted Lesnar backstage at the PPV.
During an interview on the True Geordie podcast, Jericho had the following to say about his confrontation with the former UFC Heavyweight Champion:
"He was doing a match with Randy Orton and he was, basically, butchering him with elbows to the head. I didn't know if it was planned or not and nobody would tell me if it was planned or not.
Wrestling is a hard-hitting sport, but elbows to the side of the head can kill you. If you get hit hard enough in the temple, you can die.
Ever heard of David and Goliath? That's how Goliath died, from a f**king rock to his temple.
When [Lesnar] was hitting [Orton] with the elbows, I was like, 'if this is real, this is bullsh*t. If it's been called, it's still bullsh*t. He's taking liberties and pissing me off.' I was in Gorilla (Position) and I was f**king angry about it.
Brock came through and saw me angry about it and decided he wanted to come challenge me. We got into a little bit of an issue and I was like, 'F**k this guy, I don't give a sh*t how big he is, I don't care. He's f**king wrong.'
I will fight to the death and stand up for what I believe in, to the death. I remember being, literally, nose-to-nose with the guy, and he's laughing and saying things that would probably get him canceled, homophobic terms that you shouldn't say.
I was like, 'f**k it. I'll bite his f**king nose off.' I see his giant fat nose and I'm like, 'If he comes any closer and takes a swing at me,' I'm not even saying this as a tough guy, I'm like, 'I'm literally going to bite his f**king nose off.'
I remember Haku had done that, he's a good friend of mine. I'll bite his nose off, and see how tough he is then. He might kill me, but he's going to walk around the rest of his life with no f**king nose.
I didn't care about the homophobic thing, I didn't give a sh*t, I wasn't falling for it. It had gone to the next level, it's kill or be killed, and I'm going to bite your f**king nose off.
Triple H had to break it up, we both told him to 'f**k off,' which is hilarious. Then Vince (McMahon) got involved and he basically broke it up and told me that he told Brock to do that.
No one said anything before that. Whatever the reasoning was, it's between Brock, Randy and Vince. It's none of my business, but when it got down to the confrontation, it was real.
Had it gotten to the next step, I swear to God, I would have bitten his nose off. You can crush my face, but I'll bite your nose off."
Also Read: "It's f**king disrespectful" – Chris Jericho Reveals What He Hates About Wrestling Fans
WATCH: Sable's (Brock Lesnar's Wife) Super Hot Buns:
• ON THIS DAY IN WWF HISTORY (July 13, 1985) – WWF Championship Wrestling
On this day in 1985, the World Wrestling Federation aired another episode of their weekly TV show 'WWF Championship Wrestling'.
This episode was pre-taped at the Mid-Hudson Civic Center in Poughkeepsie, New York and featured matches & interviews on the road to the "WWF The Wrestling Classic" PPV.
You can find the card below:
1. Paul Orndorff vs. Mr. X
2. Lanny Poffo & Pedro Morales vs. Barry O & J.A. Rizzo
3. The Missing Link vs. Jim Young
4. George "The Animal" Steele vs. Jerry Adams
5. Terry Funk vs. Mario Mancini
6. Iron Sheik & Nikolai Volkoff vs. Barry Windham & Mike Rotundo