• Christian On What Lance Storm Texted Him After His Return At Royal Rumble 2021
"Captain Charisma" Christian was interviewed on this week's WWE The Bump, where he revealed when he was told he would be a surprise entrant in the 2021 Royal Rumble match.
He also talked about his long-time WWF Tag Team partner and life-long friend Edge, as well as what the future holds for him in the WWE.
Here's what the former World Heavyweight Champion had to say:
"It's been a long process to get to the point where I could get myself in physical condition to step into the ring again, everyone knows that I retired from injuries 7 years ago.
I'd be lying if I didn't say Edge returning last year at the Royal Rumble kind of made me think a little bit.
We had different injuries, but it put a bug in my ear thinking, 'Man, maybe this is a possibility'. But I put it off to the side and didn't really think anything of it.
In the summer when I had that Unsanctioned Match with Randy Orton, I kind of looked at where I was in my life, I started thinking, 'Do I want that to be the lasting memory that people have of me getting punted in a 10-second match?'
The way my career ended before didn't sit well with me. I knew I needed to get back in there and to finish this on my terms and in my own way.
If it was just that one match at the Royal Rumble, then so be it. I needed to end it on my own terms.
I found out at 7:30 on Friday night, yeah. It was kind of a whirlwind from there.
I was nervous when I got the call. I was like, 'Where's my gear? Where're my tights and my boots?' Once I pieced those things together, there was no time to think.
There was so much I had to do to prepare for Saturday before going to the arena on Sunday. For not stepping into the ring for 7 years, there were no nerves. I was like, 'This is what I was born to do'.
I've been around so much, you know, doing different things, so it's not ordinary for me to be doing other things in WWE, as far as anyone knew, I was just there to support Edge's return at the Royal Rumble.
Like I've said, I haven't watched the match back yet because I'm afraid I'll see something that I didn't like, eventually, I will watch it back because I nitpick every single thing that I do. That's just the perfectionist in me.
I'll tell you Lance Storm is a really good friend of mine. He texted me after the Rumble and said, 'Hey. I didn't see it yet, but I heard you looked good. I'll be the judge of that.' Look, Lance is brutally honest.
If there's anyone that would tell me how bad I looked, it'd be him.
The next day, he texted me and said, 'Hey, man. I just watched the Rumble back. As much as it pains me to say this, it looks like you never missed a step. Congratulations, you looked awesome'.
No decisions have been made, I'm not sure at this point. We'll just take it day-by-day at this point."
Christian wrestled for the World Wrestling Federation (later renamed WWE) from 1998 until 2005, then went to TNA Total Nonstop Action from 2005 till 2008 and returned to the WWE in 2009, but retired in 2014.
Him entering the Royal Rumble match last month was his first officially sanctioned match since his retirement.
WATCH: Old Revealing Video Of Asuka (Part 1):
You can download our official WrestleFeed mobile app to check out more Wrestling news & Divas content. Tap here to download.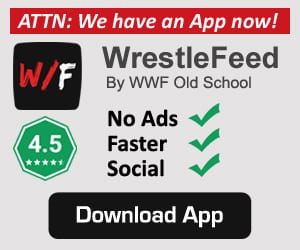 • Old School Wrestling Veteran Celebrates His Birthday
Old School Wrestling Veteran Shawn Hernandez celebrates his 48th birthday today.
After touring the independent scene during the 90s, he arrived in the World Wrestling Federation in 2000 and wrestled as a 'Jobber To The Stars' in dark matches, but also on several episodes of the weekly TV show "WWF Jakked" / "WWF Metal".
Hernandez then made a name for himself in Total Nonstop Action, where he became a member of 'Latin American Xchange' (LAX) and won the NWA World Tag Team Championship (2x), as well as the TNA World Tag Team Championship (5x), before he left the promotion in 2014.
He's currently signed to Impact Wrestling (fka TNA).
HAPPY BIRTHDAY HERNANDEZ!