• CM Punk Comments On Rey Mysterio Punching Dominik On SmackDown
On last night's episode of SmackDown, LA Knight defeated Rey Mysterio with some help from Dominik Mysterio.
Rey's wife and daughter were at ringside for this match. Dominik approached his mother after the match and asked her what it feels like to be married to a deadbeat like Rey Mysterio, and then accused her of being a deadbeat Mom.
Rey punched Dominik and said he crossed the line by disrespecting Angie. The soon to be WWE Hall of Famer then accepted his son's challenge for WrestleMania 39 to make their match official.
REY MYSTERIO HA PEGADO A DOMINIK LETSGOOOOOOOOOOO #SmackDown pic.twitter.com/EfZ5YRylAl

— Luigi (@LuigiWrestling) March 25, 2023
After the show went off the air, Rey posted the following on Instagram:
"Every man has his limits… Don't forget, she's not only your mother, but my wife.
See you at WrestleMania."
CM Punk, who terrorized Dominik & Aalyah Mysterio during a segment on SmackDown in 2010, commented the following under the post:
"Good for you Rey. I've wanted to punch him for 13 years!"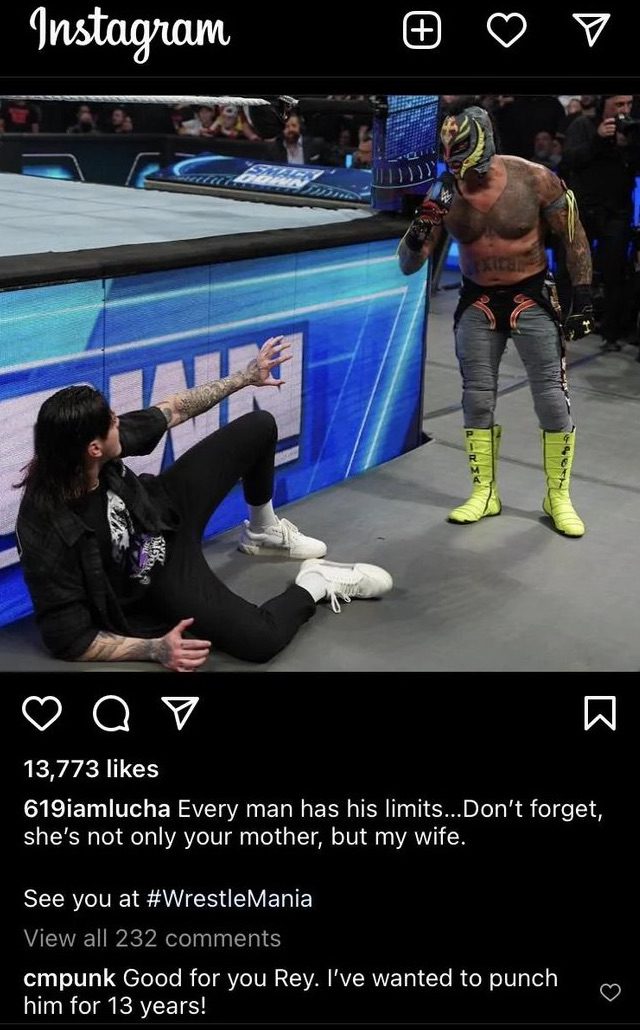 Also Read: "Shawn Michaels and I made glorious love to each other" – CM Punk
New Video: Candice Michelle Strips:
• Old School Wrestling Legend Would Have Celebrated His Birthday
Today would have been the 72nd birthday of Old School Wrestling Legend Jumbo Tsuruta (Real name: Tomomi Tsuruta).
As an Amateur Greco-Roman Wrestler Tsuruta competed in the 1972 Olympics in Munich, Germany, before becoming a professional wrestler, who worked for Giant Baba's All Japan Pro Wrestling (AJPW) among several other territories.
The highlight of his career was without a doubt becoming the AWA World Heavyweight Champion by defeating Nick Bockwinkel on February 23, 1984.
HAPPY BIRTHDAY & † REST IN PEACE
March 25, 1951 – May 13, 2000