• Cody Rhodes Posts An Updated Photo Of His Injury
Fans were shocked when they saw the condition of Cody Rhodes at Hell In A Cell 2022.
WWE Officials told Cody he doesn't have to compete and that they'll come up with an alternate plan, but Cody insisted on competing in his scheduled match against Seth Rollins.
Many fans questioned how WWE allowed Cody to compete in such a condition.
The Doctor checked Rhodes' injury and informed him that he has a completely torn pec and that no more damage can be done to it.
This led to WWE allowing Cody to perform, although they did remove some planned high-risk spots from the match, one of them being Cody hitting a Moonsault.
Cody was involved in a physical angle the next night on RAW as well, where Rollins assaulted him minutes after having a heartwarming moment.
WWF Veteran & current AEW wrestler Dustin Rhodes (fka Goldust), who is Cody's half-brother, tweeted the following about Cody performing while having an injury:
"I love my brother!"
Cody is scheduled to undergo surgery on Thursday and he is expected to be out of action for 6 months.
He posted the following photo to update the fans on what his injury looks like now: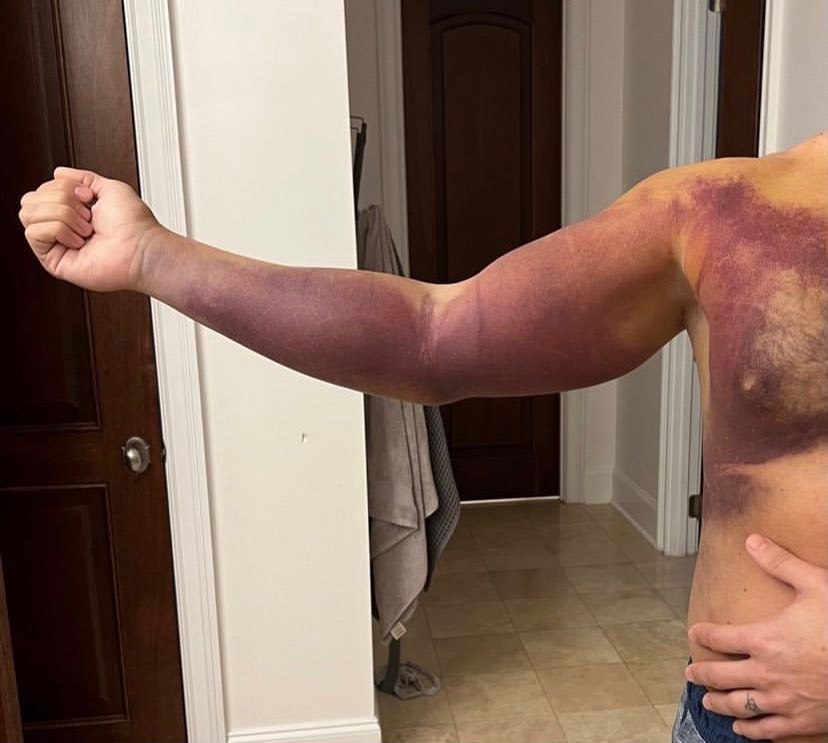 Also Read: Backstage WWE Reaction To Cody Rhodes Performing With An Injury
WATCH: Maryse (The Miz's Wife) Showcases Her Super Hot Knockers & Buns:
• On This Day In Pro Wrestling History (June 8, 1997) – WWF King of the Ring 1997
On this day in Pro Wrestling history on June 8, 1997, the World Wrestling Federation aired 'King of the Ring 1997' LIVE on PPV from the Providence Civic Center in Providence, Rhode Island.
This was the 5th annual "King of the Ring" pay-per-view out of 10 that aired from 1993 till 2002.
Other King of the Ring tournaments that were held in 1985-1989, 1991, 2006, 2008, 2010, 2015 & 2019 happened either during House Shows or during weekly TV shows.
Here are the PPV results:
King of the Ring semi-final: Hunter Hearst Helmsley defeated Ahmed Johnson
King of the Ring semi-final: Mankind defeated Jerry Lawler
Goldust defeated Crush
The Hart Foundation defeated The Legion of Doom & Sycho Sid
King of the Ring final: Hunter Hearst Helmsley defeated Mankind
Shawn Michaels wrestled Stone Cold Steve Austin to a double-DQ
WWF World Heavyweight Championship: The Undertaker (c) defeated Faarooq