• Daniel Bryan On If WrestleMania 37 Will Be His Last WrestleMania Ever
Former WWE Champion Daniel Bryan will face "The Tribal Chief" Roman Reigns for the Universal Championship in the main event of tonight's Fastlane 2021 pay-per-view.
If Bryan defeats Reigns to win the Universal Championship, then he'll go on to defend the Title against WWE Hall Of Famer Edge in one of the main events of WrestleMania 37.
During the build-up of his feud with Reigns, Bryan mentioned that this year's WrestleMania could be his last.
In an interview with Sports Illustrated, Bryan was asked if that's actually the case.
Here's what Bryan said:
"Realistically, it could be. But there is a difference between saying this could be my last WrestleMania compared to this being my last match.
After being forced to retire, I never want to retire again. It will be interesting to see what happens with my career. I don't know if I can do the full-time WWE schedule anymore.
I'm not talking physically, I'm talking emotionally. I love being a dad. There isn't much that could keep me away from being a full-time wrestler.
My favorite thing in wrestling is live events. I love that. The only thing that can stop me from doing that is how much I love my kids and how much I love being with them at home.
When my daughter says to me, 'Daddy, please don't go,' it's so hard. My wife is incredible, and she can do everything, but there is just something special when Mommy and Daddy are both home. And I love being a parent.
But we're struggling with that because I also want to show them what it's like to love what you do. I love this work that I do. So it's about finding a balance between loving what you do and being there for your kids when you need them. It will probably be a work in progress until my contract is up in a couple years."
Bryan then talked about the situation between him, Reigns and Edge:
"The hard thing about the idea of a triple threat is that Edge was forced to retire almost 10 years ago, and him coming back is a really powerful story.
What I think the story needed more than anything else was to make the WrestleMania match between Roman and Edge not a sure thing. We've cast doubt on that. The idea of me versus Edge at WrestleMania is pretty cool. Two guys forced to retire, and now we're both back.
All that's to say, I don't think Edge and Roman need Daniel Bryan involved in the story.
What I do think is exciting for the fans is that now there is a lot of doubt about the match you're going to see at WrestleMania, and I think that's really fun. Will it be me and Edge? Or me in a triple-threat? Or Edge and Roman? The more passion you drum up for this, the better it is for everybody."
Also Read: WWE Officials Discussing Turning One Of The WrestleMania 37 Main Events Into A Triple Threat Match
WATCH: Revealing Video Of Brie Bella's (Daniel Bryan's Wife) Top Being Taken Off:
🔥
You can download our official WrestleFeed mobile app to check out more Wrestling news & Divas content. Tap here to download.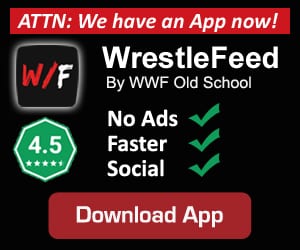 • Old School Wrestling Veteran's Birthday Today
Old School Wrestling Veteran "Rock n' Roll" Buck Zumhofe (Real name: Eugene Zumhofe) turns 70 years old today.
Buck Zumhofe spent most of his career wrestling as a mid-carder in Verne Gagne's American Wrestling Association, but also did occasional jobs on weekly World Wrestling Federation TV shows during the 80s & 90s.
Zumhofe is currently spending 25 years in prison after being convicted (2014) of two 1st-degree and two 3rd-degree counts of criminal $exual conduct.
You can find him and others on a list of well known pedophiles in professional wrestling by tapping here.